Lions hope to send 14 wrestlers to state
The Lansing High wrestling team had six individual champions Saturday at the Kaw Valley League tournament, but the Lions failed to attain their top goal - a team championship.
A runner-up finish to the Santa Fe Chargers was deemed unacceptable by a number of the Lions.
"Personally, I'm not satisfied," said junior Kyle Buehler, the KVL champ at 135 pounds. "I think we're a better team than we showed today, and I think we need to prove something next week."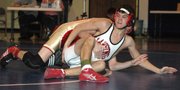 Buehler joined teammates Sean Flynn (140 pounds), Kyle Grape (145), Casey Caton (152), Dennis Kessler (171) and Ryan Civils (189) as individual champions. Nick Flynn (130) and Logan Ryan (215) both placed second in their weight classes.
The plethora of points for high finishes left Lansing with 210 points, 9.5 behind Santa Fe Trail.
LHS coach Ron Averill said there was no comfort in being No. 2, but he said the loss could do plenty to rekindle the fire within his wrestlers as they prepare for the Class 5A regional tournament Saturday at Shawnee Heights High School in Tecumseh.
"It's a big disappointment," Averill said. "Hopefully with big disappointments comes a lot of motivation. The one thing we don't want to end up is a couple points short in regionals and state."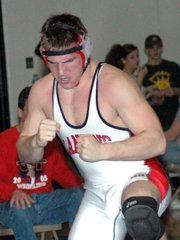 Lansing has spent the entire season ranked No. 1 in the state in 5A. The ranking automatically makes LHS the favorite to win the state championship. In order to win a championship, however, it is important for a team to qualify a large number of wrestlers for state in order to increase its chances of piling up a lot of points.
Last year the Lions qualified a school-record 12 wrestlers for state and placed sixth. This year Averill said he wanted to qualify a full squad.
"Our goal going into regionals is (getting) 14 to state," Averill said. "That's a big order, but the only way to get high performance is to have high expectations."
On paper, Lansing's chances of qualifying a full squad of wrestlers for state seems realistic. The core of the lineup - Nick Flynn, Sean Flynn, Buehler, Grape, Civils, Ryan and senior Lance Fink (160) - all are ranked in the top four in the state.
Meanwhile, senior Jeff Terrill is ranked No. 6 at 152 pounds, but he was beaten out by league champ Caton. That group already encompasses eight spots.
The other six candidates are Dennis Wood (103), Scott Keller (112), Chance Thackston (119), Wes Appleget (125), Kessler and Tyler Strouhal (275). Thackston and Kessler both were state qualifiers last year. The other four all have performed well this season.
Of the seven other teams in Lansing's regional, only one is ranked among the state's top 10 teams. That is No. 8 Turner. The other teams in the regional are Shawnee Heights, Highland Park, Wyandotte, Harmon, Schlagle and Washington.
"From now on it's win or go home," Buehler said. "We've really got to get focused. We have a tough week ahead of us and we have some tough teams at regionals. We can't overlook anybody at all."