Saint John taps new supervisor
Debra Millett, R.N., has been named clinical supervisor for the Senior Behavioral Health Center at Saint John Hospital in Leavenworth. The Senior Behavioral Health Center provides specialized psychiatric care to adults age 55 and older who are suffering from depression, anxiety, grief reactions and other psychiatric conditions.
In her new position, Millett is responsible for overseeing the activities of the staff and the daily operations of the center.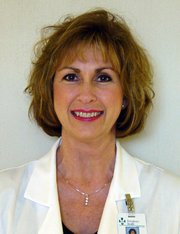 Millett has extensive experience in the mental health field. Most recently, she served as nursing supervisor of a 32-bed residential care facility for older adults with persistent mental illness in Grand Rapids, Mich. She also worked in the psychiatric field in Fort Smith, Ark.
Millett received her nursing degree from the University of Arkansas, Fort Smith.
She and her husband, Doug, now make their home in Platte City, Mo. They have four grown children.
In their spare time, the couple enjoys working with a special-needs ministry through their church, helping individuals with physical and mental challenges. Millett also has done extensive mission work, traveling to Mexico for the past few years to provide healthcare to the country's residents.