Two soldiers on death row await president's decision
Fort Leavenworth — Kansas could see its first legal execution in four decades if President Bush approves a military request to put to death two inmates at Fort Leavenworth's U.S. Disciplinary Barracks.
If approved, the lethal-injection executions of Ronald A. Gray and Dwight J. Loving would be the first at Fort Leavenworth since an Army private was hanged in 1961 for rape and attempted murder - and the first in the state since George York and James Latham were hung for murder in 1965 at what then was Lansing State Prison.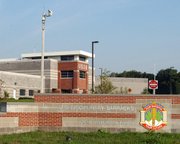 "The process is a long way from coming to fruition," said Lt. Col. Pamela Hart, an Army spokeswoman in Washington, D.C. "The president is under no timeline (to approve execution) whatsoever."
Asked why the Army was moving now to resume executions after 45 years, Hart said: "I don't have that answer."
Gray has been on the military prison's death row since April 1988 for convictions for rape, sodomy and multiple murders while stationed with the Army at Fort Bragg, N.C.
Loving arrived on death row the next year after being convicted of killing two taxicab drivers while he was an Army private at Fort Hood, Texas.
Fort Leavenworth has been home to the military prison, which houses inmates from all service branches, since the 1870s. A new facility that opened in 2002 includes space for an execution chamber, but it has not been equipped.
Virgil Dean, a historian at the Kansas State Historical Society, said executions at Fort Leavenworth were once quite common. In all, there have been 26 executions carried out at the fort. The first legal execution after Kansas became a state, Dean said, was a military execution.
"There were quite a number of executions at (Fort) Leavenworth prior to 1961," Dean said. "About half the number of executions carried out in Kansas were carried out at the federal (military) facility."
New regulations issued last month by the Army that take effect Friday, Feb. 17, allow for executions to take place at military prisons other than the U.S. Disciplinary Barracks at Fort Leavenworth.
Modern-day executions at the fort will draw opposition.
"Of course, we oppose the death penalty whether it's at the state or federal level," said Bill Lucero, with the Kansas Coalition Against the Death Penalty. "It doesn't make us any safer, that's the bottom line."
But Jeffrey Jackson, a Washburn University law professor who once served as the Kansas Supreme Court's staff attorney on death penalty matters, said he didn't believe military executions would have any effect on the state debate over the issue.
"I'm not sure that it makes us more likely to be pro-death penalty or anti-death penalty, just because it's happening on Kansas soil," Jackson said. "I think it'd be different for a crime committed in Kansas."
The state debate is unresolved. In December 2004, the Kansas Supreme Court declared the state's death penalty unconstitutional, vacating the death penalty for six men facing execution. The ruling said the death penalty statute was unconstitutional because of how juries weigh arguments for and against the death penalty during sentencing.
The case is now in the hands of the U.S. Supreme Court.