Wallula to pare K-5
Christian school to offer only preschool in 2006-07
Wallula Christian School's decision to close its kindergarten through fifth-grade classes next year is leaving parents in a quandary.
The Rev. Lance Coffman, lead pastor at Wallula Christian Church, said he and a council of three elders at the church began evaluating all ministries at the church about six months ago to see how they aligned with the church's vision.
The result of that study, which included discussions with the school ministry team, he said, was that the church could best meet the needs of the community by focusing the education ministry on preschool only.
The decision to close the other grades - a total of four classes because second and third grades and fourth and fifth grades are combined - affects about 35 students, Coffman said. The church would take over the school classrooms for other children's ministries, he said.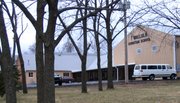 Coffman called the closure of the school "primarily a vision decision" rather than a financial decision.
Wallula Christian School started as a preschool in 1993, Coffman said. It started as a parallel ministry to the church and has been absorbed as one of the church's ministries, he said.
Parents were notified of the decision at a meeting Feb. 7, Coffman said, the rest of the congregation was sent a letter last week announcing the move.
Coffman said he had received "diverse feedback" since the news.
"Certainly parents are disappointed and concerned, and we understand that," he said. "It creates a certain degree of anxiety in relation to their kids and their education."
But many of the same parents have been supportive of the elders, he said.
Drew Brickson is one of the parents concerned by the decision. One of his sons is in kindergarten at Wallula.
The church's decision to close the school "was just a huge surprise" that caught him off-guard, Brickson said.
Brickson, an engineer for the U.S. Army, said he'd heard about the Wallula school when his family was stationed in Germany and it was one reason he'd moved to Lansing when he was transferred to Fort Leavenworth almost two years ago.
"Decisions like these are not always popular," he said. "I hate to see there not be an opportunity to have a Christian education in Lansing, but that's been taken away from us."
However, Brickson said many parents were working with the school's director, Teresa Bradshaw, to look for alternatives. Preliminary ideas have been to combine with another Christian school or to move the school to a different church.