Safe Harbor adoptions continue
Shawnee — Hailey and Bailey, two 4-month old Pointer mix puppies, had their own prison break out of Lansing Correctional Facility on Saturday at Shawnee PetSmart.
The two sister dogs, trained through the Safe Harbor Prison Dog program, were adopted by two Wyandotte County families.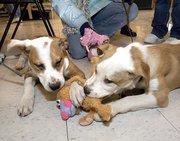 Although the whereabouts of Toby Young - president of the dog rescue program, who was implicated in a prison break last week at Lansing - are unknown, the good works of the charity she organized are continuing in her absence.
A warrant was put out for Young's arrest after it was discovered that John M. Manard, the Lansing inmate who escaped Feb. 12, got out of the prison in her van. Authorities believe Manard hid in a dog crate and Young drove him out of the facility.
The two are still at large. The 27-year-old Manard was serving a life term for the 1996 murder of a Johnson County man in a carjacking.
Saturday at PetSmart, 15200 Shawnee Mission Parkway, dozens of families came to either adopt a pet or see the dogs available from the Safe Harbor Prison Dog program. Mike Clark, operations manager for Shawnee PetSmart, said the program typically brought 10 to 15 dogs each weekend. Other pet adoption programs also provide free dogs and cats at PetSmart. Clark said all the pets up for adoption are spayed or neutered and checked by a veterinarian.
"Our company decided to make a policy not to sell dogs or cats since there are so many of them," Clark said.
He also said when families adopt a pet through the program, they get a care guide with advice on raising a dog or cat.
Frances Breyne, public information officer with the Kansas Department of Corrections, said the program was continuing to put up dogs for adoption even without Young's leadership.
"Everybody believes in the program," she said. "It's really amazing to see."
Although the program isn't taking dogs from shelters at the moment, Breyne said both the prison staff and inmates are hoping the program will resume in the future. Currently, about 40 dogs are being cared for by inmates at the Lansing prison.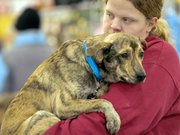 "Toby spent 60 to 70 percent of her time working with the dogs, asking for donations, training with the inmates, carrying dogs back and forth from the organization," Breyne said. "She devoted the most time for the program. However, it is hoped the program will continue."
She said there were rescue dogs from other programs in each of the Kansas correctional facilities.
"Lansing is the largest dog rescue program (of its kind) not only in Kansas, but as far as we know, it's the largest in the nation," Breyne said.
An estimated 900 dogs have been adopted into families since the program began. Breyne said many of those dogs would have been euthanized if the prison facility had not temporarily adopted them. The inmates help to give the dogs care and attention while they are treated for heartworms, vaccinated or habituated to contact with humans and other dogs. The dogs often sleep in the inmates' bunks to keep them company or in crates in the cells.
"It offers inmates a chance to learn compassion and commitment," she said. "It's in a sense a responsibility that they would not have otherwise been able to learn. They need those skills when they're able to leave the facility."
Barbara and Robert Hersh, a couple from Lansing, said they had no trouble with their Safe Harbor dog, Miss Brynn. Barbara Hersh came to PetSmart on Saturday to show her support for the Safe Harbor program.
"She's just a sweetheart," Barbara Hersh said of her Shepherd/ Beagle mix. "She's so friendly, and she's a real man's dog."
While watching the other 10 or 15 dogs from the Safe Harbor program noisily awaiting their families, Miss Brynn curled up quietly next to Bob Hersh's walker. The couple originally got the dog for their special-needs daughter but discovered Miss Brynn wasn't appropriately trained to help a special-needs person. They couldn't bear to give up the well-mannered dog, so they kept her. Barbara said Miss Brynn had no trouble getting along with their golden retriever.
Only half an hour into PetSmart's scheduled adoption time, already Hailey and Bailey were going home with new families. Bailey went home with Mary Smith of Bonner Springs. The Foster children from Piper - Markaela, sixth grade, Jasmine, third grade, and Triniti, kindergarten - took Hailey home.
"They're not to far away from each other, so maybe they will see each other," Smith said.
The Foster girls said they chose Hailey because they wanted a puppy.
"It was the cutest one," Jasmine said. "We've been begging and begging Mom for a dog for the longest time."
Their mother, Tammy Foster, said she finally decided to get a dog after looking on the Safe Harbor Web site for a pet that would also make a good watchdog. The girls, though, are just excited about having a pet to love.
"I can't wait to get her home and play with her," Triniti said.
For more information about the Safe Harbor Prison Dog program or to see pets available for adoption, visit safeharborprisondogs.com.