LHS

girls focused in strong showing against Santa Fe
There were numerous opportunities Tuesday night for the Lansing High girls basketball team to lose its focus against Santa Fe Trail.
There were the 26 first-half fouls that were called between the two teams that made it nearly impossible for either team to find a rhythm on offense. There was the fact that LHS starters Amanda Radovich, Nichole Twitchel and Katie Nietzke all picked up two early fouls. There were the obnoxious Santa Fe fans - one of which gave their team a technical foul after throwing a bottle of soda onto the court late in the third quarter.
The Lions didn't let any of it faze them, however. Instead, they kept their poise, used an explosive second quarter to seize control, sank 10 of 10 free throw tries down the stretch and hung on for a 67-54 victory at Johnsmeyer Gymnasium.
"No complaints tonight. No complaints whatsoever," LHS coach Keith Andrews said.
Lansing (13-6 overall, 9-3 Kaw Valley League) found itself in an early jam as Radovich, the team's leading scorer at almost 18 points per game, picked up two fouls in the first 1 minute, 47 seconds. She went to the bench with LHS trailing 5-4. At that point, Radovich had all four of her team's points.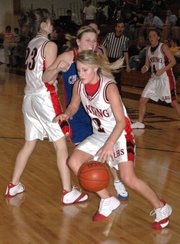 Santa Fe took advantage of Radovich's absence and stretched its lead to 10-6 before she returned to the court three minutes later.
Upon Radovich's return, the Lions quickly found a rhythm and used an 8-4 run to tie the game. During that stretch, freshman Brittney Lang sank a free throw, sophomore Amanda Darrow banked in a jumper Radovich scored on a feed from Nietzke, Nietzke sank a jumper in the lane and Darrow swished a free throw. A layup at the buzzer by Tori Rutter gave Trail a 16-14 lead at the end of the first quarter.
Lansing wasn't down long. Just like Friday when LHS beat Turner, sophomore Morgan Chiles checked into the game. Immediately the intensity was turned up a notch. The Lions forced seven straight turnovers to start the second quarter as while they went on an 11-0 run. Rachel Darrow scored five points during that span and Chiles added a steal and a layup.
"As we're going there, when fouls are being thrown around, Morgan comes in and gets a steal and a bucket and kind of makes things happen again," Andrews said.
A three-pointer by Rutter at the 3:35 mark snapped the Chargers' scoring drought, but the Lions hit right back with an 8-4 run to close the quarter and take a 33-23 lead into halftime.
The Lions's hot second quarter carried over into the third quarter as they opened with a 12-2 run that was bolstered by two three-pointers by Nietzke. Suddenly the lead was 45-25 with 4:32 left in the quarter.
Despite the lopsided score, the Chargers didn't quit. Instead, they picked up the intensity during the final minutes of the quarter and turned Lansing turnovers into points. They used a 12-1 run to pull within nine with 48 seconds left in the quarter.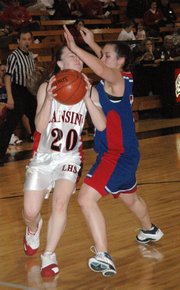 Twitchel halted Santa Fe's run with a 16-foot jumper late in the quarter, and that's when things got nutty. The Chargers attempted to answer with a bucket at the other end when Johnna Long drove to the basket, crashed into Christine Cordes and scored. Long was whistled for a charge, however, and the basket was waved off. Furious at the call, Santa Fe coach Jayson Duncan leaped in the air and shouted his disapproval. Meanwhile, a Santa Fe fan in the stands above heaved a 20-ounce plastic bottle of soda onto the court in protest. The result was a technical foul. Nietzke swished the ensuing pair of free throws. Twitchel added another free throw at the end of the quarter to give Lansing a comfortable 14-point lead.
"That was interesting," Andrews said of the bottle-throwing incident. "I thought their coach was going to get a T first, because he did a couple jumps. They were pretty vocal. They're not very good about losing."
The Chargers continued their strong second-half effort into the fourth quarter and twice pulled within eight points, but the Lions had an answer every time. Usually that answer came from Twitchel at the free throw line. The senior guard sank all eight of her free throws in the quarter to put the game away.
Twitchel led Lansing with a game-high 18 points to go with three steals. Radovich scored 16 points and grabbed 10 rebounds. Nietzke and Rachel Darrow scored 13 points apiece. Amanda Darrow had three points and three steals, Chiles scored two points and Lang and Christine Cordes added one apiece. Rutter led Santa Fe with 15 points and Sara Weber had 12.
The victory locked up the No. 3 seed in next week's Class 5A substate tournament. It also gave Lansing control of second place in the KVL with one game remaining.
Lansing next plays at 6 p.m. Thursday at home against Bonner Springs in the regular season finale.
JV RALLY FALLS SHORT
The Lansing High junior varsity girls trailed by 16 points with six minutes left Tuesday night before making a furious rally that came up just short.
Santa Fe Trail 35, Lansing 31.
Down 31-15, LHS coach Sarah Wise sent a group of freshmen into the game to provide a spark. Boy did they ever.
The freshmen did a majority of the scoring during a 14-0 run that made the score 31-29 with 2:14 to go. Freshman Brooke Didde started the run by swishing a three-pointer. Freshman Alexis Ellis scored nine points during the run and sophomore Katie Smith scored on a layup.
LHS had a chance to tie the game when it had five shots within four feet with one minute left, but all five shots rimmed out. Santa Fe pushed its lead to 31-29, but Didde knocked down a 17-footer to pull Lansing within one point with 37 seconds left.
A late put-back and a free throw in the final seconds allowed Santa Fe to hang on for the win.
Ellis led Lansing with nine points. Didde scored five and Mary Lyon and Amanda Darrow scored four apiece. Smith, Morgan Chiles, Kara Ritchey and Maria Jackson each scored two and Christine Cordes added one.
FRESHMEN GIRLS STORM BACK FOR WIN
The Lansing High freshman girls scored half of their total points Tuesday night in the fourth quarter when they finished the game on a 16-3 run. The final result was a 32-26 victory over Santa Fe Trail.
The Lions (4-10) struggled offensively during the first quarter as they sank just one of 12 field goals and hit two free throws, but the Chargers were poor enough offensively (0-11) that the Lions led 5-0 after the first eight minutes.
Santa Fe heated up in the second quarter, though. Meanwhile, Lansing turned the ball over nine times while SFT went on a 17-5 run and took a 17-10 lead into halftime.
After an even third quarter where both teams scored six points, Lansing turned up the intensity on both ends of the court in the fourth quarter. The Lions forced 11 turnovers in the final eight minutes, and they finally found a rhythm on offense.
Alexis Ellis opened the fourth quarter with a lay-in that pulled Lansing within 23-18. A four-minute scoring drought followed, but LHS broke out of it when Keasla Hundley drained a three-pointer from the right wing with 3:35 left. That made it a two-point game. A free throw by Cassandra Murphy pulled Lansing within a point.
Santa Fe pushed its lead back to 25-22 with its first bucket in more than five minutes, but LHS answered back with a spinning jumper in the lane by Ellis. The next time down the court, Brooke Didde swung the ball to Hundley for another three-pointer. That gave the Lions the lead for good at 27-25. Moments later, Didde swished a trey. Then Ellis and Hundley put the game away by making free throws in the final seconds.
Ellis led Lansing with eight points. Didde added Hundley added seven points, Murphy and Didde scored six apiece, Loreti had three and Casey Andrews scored two.