Freshman girls cast growing pains aside during first game in high school gym
For the Lansing High freshman girls basketball team, it has been tough to feel at home this season.
Any time it has had a home game, it has been forced to play next door in the Intermediate School gymnasium. Then, two weeks ago when LHS was supposed to finally have a Tuesday home game in the high school gym, the game was canceled because Immaculata didn't have enough girls to field a freshman team.
Tuesday evening, the Lions finally made their debut in Johnsmeyer Gymnasium. The result was a stunning come-from-behind 32-26 victory against the Santa Fe Trail Chargers.
"The girls were so excited to play in here tonight," freshman coach Carrie Ritchey said. "They feel like this is their home court, and they haven't had a chance to play on it.
"I told them, 'You've got to defend this court and start the run tonight for all the teams (the JV and varsity girls played later).' They really stepped up."
Photo Gallery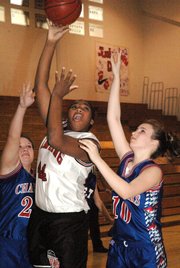 Freshman girls top Santa Fe Trail
Perhaps playing in the high school gym caused a few early-game jitters, but the Lions struggled offensively in the first quarter as they made just one of 12 shots. Fortunately, their defense was good enough that they held the Chargers scoreless for the first eight minutes and took a 5-0 lead into the second quarter.
Lansing (4-10) got sloppy in the second quarter and turned the ball over nine times. Santa Fe took advantage of those turnovers and built a 17-10 halftime lead.
"In the first half we had some troubles," Ritchey said. "We'd get the turnovers, and then we'd do something silly like travel or throw it away real quick. At halftime I told them, 'Those are things we can change. We have control of those things.' And they took control of them."
The Lions made a concerted effort to get the ball to the post in the third quarter. They consistently found Alexis Ellis down low. Although she struggled to finish her shots, she sank a pair of free throws in the quarter and Cassandra Murphy added four points on put-backs to keep the Lions within 23-16 entering the fourth quarter.
The momentum built in the third quarter carried over to the final eight minutes when Lansing closed the game on a 16-3 run. Ellis scored on a lay-in on the first possession of the quarter, but a four-minute scoring drought followed. Keasla Hundley kick-started the Lions again with a three-pointer with 3 minutes, 35 seconds left to pull them within 23-21. A free throw from Murphy made it a one-point game.
Santa Fe snapped its six-minute scoring drought with a jumper, but Ellis answered quickly with a spinning jumper in the lane. The next time down the court Hundley gave Lansing the lead for good with another three-pointer. On the next possession, Brooke Didde dropped the dagger when she buried a trey. Ellis and Hundley each sank a free throw in the final seconds to seal the victory.
The victory was big for the Lions for a number of reasons. It was primarily a confidence-builder for a team that needed the boost. After losing just one game in eighth grade, the Lions have struggled at times to adjust to the high school game.
Ritchey said her players finally are becoming comfortable with the faster paced game.
"I'm hoping this will be a real growing season for them," Ritchey said. "I told them at the beginning of the season, 'This is a long season, and it's a different season. You're going to see teams you thought you knew, and they're going to be awful different.' Finally they're realizing that we've got to be different, too."
In addition to Ellis, Murphy, Hundley and Didde, other freshman players are Natalie Loreti, Kenzi Smith, Katherine Sebes, Katie Cristiano, Haley Gwartney, Lindsay Beamon, Mallory Barnhouse, Casey Andrews, Rebekah Sewing and Paige Reynolds.