LHS

boys eye 5-seed for substate tourney
For the last three weeks the Lansing High boys basketball team has had a good idea of what its ideal Class 5A substate bracket would look like.
There was only one spot in the substate standings that appeared remotely ideal. That was the No. 5-seed. Fifth place would mean a first-round matchup with No. 4-seed Gardner-Edgerton. The winner there likely would play top-seed Mill Valley.
But if Lansing slipped to the sixth or seventh seed, it would be stuck facing Highland Park or Topeka Seaman. Both Hi-Park and Seaman are taller, stronger and quicker than Lansing and pose numerous mismatches.
"Nothing against our confidence, but we want no part of Seaman or Highland Park," LHS senior Jeff Slater said. "That would be a huge confidence boost for us to get the No. 5-seed."
Lansing (10-9 overall, 7-5 Kaw Valley League) has a chance to lock up fifth place in the substate standings with a victory at 7:30 p.m. today against Bonner Springs in the regular season finale at Johnsmeyer Gymnasium. A Lansing loss, paired with a Paola victory, would result in a two-way tie to be determined by a coin-toss.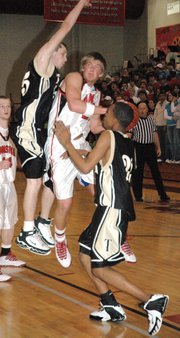 A Lansing victory also would forge a two-way tie for third place in the Kaw Valley League with Bonner Springs (12-7, 8-4).
"This is a big game for us in league, it's a big game for us in substate, and these guys have been working hard the last month or so, so obviously we'd like to finish up at home with a win for the seniors," LHS coach Don Allen said. "They know Bonner is a good basketball team, and they know we're going to have to play very well.
"We've been playing big games for the last month and a half. Ever since the Tongie Tournament, every game has been huge, so I don't think there's any added pressure on us. We'd just like to finish with a win at home for the seniors and give ourselves a chance to get the best seed possible in substate."
Of course, the Braves and the Lions are hardly strangers. They've already played twice this season. The Braves won both meetings. The first was a 51-46 decision on Dec. 14 during the Bonner Springs Metro Prep Classic. The second was a 61-53 decision on Jan. 13 during Kaw Valley League action. The Lions shot poorly in both games.
"We've seen Bonner a couple times. They're not new to us," Allen said. "We know the things we need to do to be successful."
The main thing Lansing needs to do is make shots. Fortunately for LHS, it has been much more consistent on offense during the last nine games, seven of them victories. Senior forwards Jeff Slater and David Kern have scored more, as has junior forward Jeff Jackson. Guards Cody Mohan, Chris Wagner and Matt Warner also have hit open shots and made better passes.
During the recent hot stretch, the Lions have won close games and they've won blowouts. Most importantly, though, has been the fact that they've won.
"They feel pretty confident about what they're doing," Allen said of his players. "It's just a little different mindset (from the beginning of the year). I'd rather be on this streak going into substate than the opposite."