Next stop: State
11 wrestlers hope to bring Lansing a state championship
The Lansing High wrestling team has spent the entire season ranked No. 1 in Kansas Class 5A.
So far, none of those polls have mattered.
There's only one poll where rankings matter: the last one. That one is dictated by the final results at the state tournament, which begins at 10 a.m. Friday and runs through Saturday at the Kansas Coliseum in Wichita.
When the final standings are announced, the Lions hope to remain right where they've been all season.
"To be the top ones there," said senior Logan Ryan, who is ranked No. 4 at 215-pounds.
Lansing had its best state finish ever last year when it placed sixth as a team at state. That squad was anchored by state champion Kyle Grape. Four other Lions - Kyle Buehler, Ryan Civils, Nick Flynn and Sean Flynn - also earned state medals.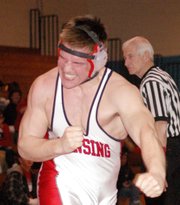 All five state placers are back, along with a stacked cast of other potential state medalists. In all, 11 Lions qualified for state.
Grape, who placed first last year at 140 pounds, is ranked No. 1 in the state at 145 this year and is the overall top seed. Buehler (135), Civils (189), Nick Flynn (130) and Sean Flynn (140) all are considered strong championship contenders.
Joining them at state are sophomore Dennis Wood (103), junior Scott Keller (112), junior Casey Caton (152), senior Lance Fink (160), senior Dennis Kessler (171) and Ryan. Caton, Fink, Kessler and Ryan were state qualifiers last year.
"Most of them have been there before," LHS coach Ron Averill said. "It's nothing new to them. I'm hoping we just get down there with the right mindset and take it to everybody."
If the Lions maintain their focus and perform at a high level, then they should be in the running for the state championship. After all, they had nine regional champions. All nine are ranked in the top six in the state in their respective weight classes. Plus, only Turner (13), Valley Center (13) and McPherson (12) qualified more wrestlers for state than LHS. St. Thomas Aquinas matched Lansing's total of 11.
Even though the Lions have plenty of reasons to feel good about their chances, Averill cautioned that nothing should be taken for granted.
"The state tournament is the craziest tournament ever," he said. "Anything can happen. You can have a whole game plan set and go down there and everything just blows up in your face. You've just got to accept that everything is going to be as it should be, get in there and get ready to do the best you can."