Radovich to throw at West Point
Ever since she was a little girl, Amanda Radovich knew that Army was better than Navy.
Her dad told her so. Her mom did, too.
"My dad's car says 'Go Army' on the license plate. My mom's says, 'BTNAVY,'" Radovich said with a laugh.
Radovich's father, Col. Rory Radovich, graduated from West Point. That meant he was obligated to teach his daughter about the lore of the spirited Army-Navy rivalry.
The military academy sports rivalry is about to become a lot more personal to Amanda Radovich. She signed her commitment letter Friday to throw the javelin for the track team at West Point. The Black Knights also want her to throw the discus, an event she hasn't done before.
"Ever since I was little, my dad has been like 'This is where you're going,'" Radovich said about West Point. "Then I started reading up on it, and I decided this was my number one choice. I looked at a couple other colleges, and nothing was ever academically the same."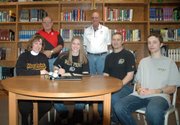 Radovich said academics were a major selling point for her. She wants to attend medical school, and the military will pay for it after she graduates.
The track team also convinced her that West Point would be the right choice for her. A standout basketball player who ironically scored a career-high 35 points three hours after signing with the Black Knights, Radovich said the track coaches made her feel right at home on campus.
"When I went up for my official visit (in September), their coach (Jerry Quiller) took out of his own time to make sure I was comfortable," she said. "He took me out to lunch and just made me feel comfortable. I stayed with one of the female throwers, and they were just awesome. I love the team, I love the coach, and it sold me."
By choosing to do track in college, Radovich also is choosing to leave basketball behind - at least for now.
The Black Knights were interested in Radovich for basketball as well, but she said she was told she would have to switch to playing small forward instead of power forward. Also, she knew she likely would have to wait about two years to see significant playing time.
Meanwhile, Radovich was told she could compete right away with the track team.
"The West Point coach actually told me he thinks I should be throwing 160 by the end of my freshman next year," she said, noting that she already has been promised a spot on the travel squad.
Currently, Radovich boasts a career-best throw of 126 feet. The Lansing High school record of 131-4 is held by Ashley Reider, the girl who talked Radovich into throwing the javelin in the first place.
LHS track coach Errol Logue said Radovich joined the track team as a quarter-miler her freshman year, but she didn't have the natural foot-speed to excel in the event. Eventually, Reider talked her into throwing the javelin.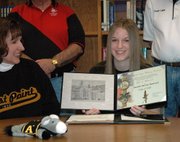 Radovich placed sixth at state as a sophomore in Class 4A. Her junior year was a struggle, however. She changed her approach, tinkered with her form and spent too much time overanalyzing things.
"As coaches, we spend our time trying to motivate kids to work hard. How often do you have an athlete where you've got to tell them, 'Hey, back off a little bit. You're trying too hard.'" Logue said. "That was her case."
Radovich still found her way to the Class 5A state tournament by the end of the year, but she didn't qualify for the finals. She said she expects things to be different this year. She wants another state medal and she wants the school record.
Logue said he thinks those goals are realistic, but he mainly just wants to see Radovich have fun during her senior season.
"I know she's going to work hard, so (I want her to) get out there, relax, have fun and see what she can do," he said. "There isn't anybody in the world that can surprise you like a high school kid when everything comes together, when mentally and physically everything comes together."