Second place at stake tonight against Bonner
Sweep of
BSHS

would give

LHS

girls plenty of momentum
It's reasonable to believe the Bonner Springs girls basketball players have had a few sleepless nights reliving the memories of their Jan. 13 contest against the Lansing High girls.
That's when the Lions beat the Bravettes, 63-41, in a game that essentially was over by halftime. Everything went right for the Lions that night. Everything went wrong for the Bravettes.
The blowout victory remains the best game Lansing has played in Keith Andrews' two years as coach. It also was an atypical performance from Bonner.
"They want to prove that it was a fluke that we beat them badly," Andrews said of Bonner. "The best case scenario is we come out and beat them however. I don't care, just so long as we get the win. They're going to be hungry, so I think our girls will respond pretty good."
The Lions (13-6 overall, 9-3 Kaw Valley League) should have no trouble understanding that the Bravettes will be seeking revenge. After all, that's what fueled the Lions' strong performance during the first meeting this season. They lost to the Bravettes twice on last-second shots last year and saw that game as a chance for redemption.
Even though Lansing won big last time, the stakes remain high for this meeting. Bonner (11-8, 9-3) is tied with Lansing and Santa Fe Trail for second place in the KVL, so today's game will weight heavily on the final standings.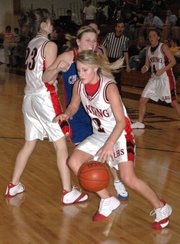 Lansing beat Santa Fe Trail, 67-54, Tuesday night. LHS used a balanced scoring attack in the victory as senior Nichole Twitchel scored 18 points, senior Amanda Radovich scored 16 and senior Rachel Darrow and sophomore Katie Nietzke added 13 apiece.
"This is the first time since I've been around that I remember the girls beating Trail," Andrews said. "It's been about seven or eight years."
Beating Bonner a second time is likely to prove much more difficult than beating it once or knocking off Santa Fe. After all, the Bravettes have played their best ball during league action, and they've been on a hot streak recently. They've won their last five games, including a 45-42 victory against Basehor-Linwood on Friday and a 53-43 win against Bishop Ward on Tuesday.
The game against Basehor caught Andrews' attention because Bonner closed the game on a 19-0 run and held Basehor scoreless in the final quarter.
"They had a great comeback the other night," Andrews said. "We've got to be prepared for anything. We've got to make free throws again, we've got to guard shooters and we've got to step up and play."
The Bravettes have been particularly dangerous because sophomore sharpshooter Kelsey Stanbrough finally shook her early-season slump. She burned the Lions for nine three-pointers in two games last year, but she scored just five points on one-for-10 shooting in the first meeting this season. She enters round two with back-to-back 21-point efforts, though, and sank four three-pointers during the fourth-quarter comeback against the Basehor Bobcats.
NO LONGER RANKED
After spending the last two weeks ranked No. 9 in the state in Class 5A by the Kansas Basketball Coaches Association, the LHS girls were bounced from the rankings this week. A 59-51 loss to the Bishop Ward Cyclones last week cost the Lions their ranking and knocked them out of sole possession of second place in the Kaw Valley League.
LHS no longer is receiving votes in the Topeka Capital-Journal poll.
SUBSTATE FINALIZED
Although every team in Lansing's Class 5A substate bracket has one game left to play in the regular season, the postseason pairings are official. Paola (17-2) earned the top seed and will play last-place Topeka West (3-16). Shawnee Heights (13-5) earned the No. 2-seed and will play No. 7 Highland Park (5-14). Lansing locked up the No. 3-seed Tuesday night and will play No. 6 Mill Valley (8-11). In the 4-5 showdown, Gardner-Edgerton (11-8) and Topeka Seaman (10-9) will play.