All-State honor caps record-setting career
Welch is Lions' career leader in digs, points, wins
A quick glance at the Lansing High volleyball record books reveals two things about Casey Welch: She played a lot of volleyball and was pretty darn good.
Welch, a four-year starter for LHS, set numerous school records during a career that was highlighted by helping her squad make three state tournament appearances and winning the Class 4A state championship in 2002.
This season was the only one where Welch's team failed to make it to the state tournament, but it wasn't the result of underperforming. In fact, 2005 was the best statistical year of her career as she posted career high's in kills, attacks and good spikes.
Welch was recognized Thursday by the Kansas Volleyball Association for her effort this season as she was named honorable mention All-State for the second year in a row.
"It feels great to know that I did good enough for my team to be honored like that," said Welch, a 5-foot-10 outside hitter.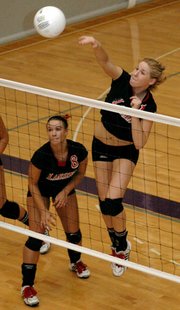 Welch, a two-time Kaw Valley League Player of the Year, said she was more surprised to make the All-State team this year than last year because Lansing didn't qualify for the state tournament. Players at the tournament tend to receive more exposure because coaches from other parts of the state can see them play.
"If you don't make it to state, then people don't look you up as much," she said. "But if you are in the state program, people will look you up and find out more about you and your team."
Although absent from the state tournament, Welch's stats were impossible for coaches to ignore. She led the Lions in kills (375), hitting efficiency (.385), serve receives (1.97 per game) and aces (45). Her 700 good spikes were the second most in a season in program history, and her 4.52 kills per game ranked among the best for any player in the state.
For her career, Welch is Lansing's career leader in digs (630) and points (703). She also is tied with LHS legend Natalie Uhart as the program's winningest player with matching 132-20 records. Welch's 944 career kills are second all-time at Lansing behind Uhart's 1,185.
"It's kind of weird thinking that I'm in the record book," Welch said. "But it makes me feel good about all the hard work that I've put into playing volleyball since second grade. It also means a lot knowing that I was able to be that good and that my teams were that good, because my teammates helped out a lot. You can't hit good if you don't have good teammates and a good setter to pass it to you all those times."
Welch, a National Honor Society member and a mainstay on Lansing High's honor roll, completed her high school graduation requirements this fall and will attend Johnson County Community College this spring.
Although Welch said she is ready to begin life as a college student - class starts Jan. 18 - she doesn't plan to play volleyball at the next level. She had numerous offers to play in college, but she said she was ready to focus on her studies. After a semester at JCCC, she said she will head to Kansas State University in the fall to major in Wildlife Biology.
Academics will be her primary focus in college, but Welch said she still plans to play volleyball recreationally.
"I'm not really looking to play in college, but I'm looking to play intramurals and maybe college club," she said. "I'm just looking to play for fun now."