East Hill Singers mark 10 years
Lansing Correctional Facility inmates, both current and former, make up half of group
In a small chapel Tuesday night, about 20 men were seated and singing a song called "Thank You Very Much."
The song contains the line, "I never thought the future would be fun for me." That certainly may ring true for some of the men singing it - about half are inmates at Lansing Correctional Facility.
The men are participating in a chorus called the East Hill Singers, named for the prison's minimum-security campus on the east side of Kansas Highway 5. They are practicing for two concerts this month, which mark the group's 10th anniversary.
The East Hill Singers chorus was formed by Elvera Voth, a conductor who spent much of her career in Alaska. When she returned to Kansas, her home state, in 1994, she wanted to volunteer and had the idea to work with inmates.
Since then, she has worked with inmates and volunteers to produce four concerts each year, two in January and two in June.
Photo Gallery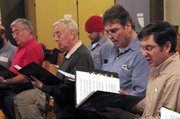 East Hill Singers mark 10 years
For 10 years, the East Hill Singers have given Lansing Correctional Facility inmates an artistic outlet in song.
"She's a master at working with people," Lorna Mathison said of Voth. Mathison is president of the board of directors for Arts in Prison, a nonprofit organization that built upon the foundation of the East Hill Singers.
Mathison, who worked for 12 years in the education program at Lansing Correctional Facility, is a self-described "East Hill groupie."
She said she's seen "dramatic changes" in inmates who participate in the program. Two of the volunteers singing in the chorus are former inmates who participated while at the prison, Mathison said.
"What it says to me is that the experience has meant so much to them," she said.
"This is my passion," she said. "Music is a universal expression of a whole range of emotions. (The inmates) lose themselves from an often negative atmosphere."
The song "Thank You Very Much" will be sung to the audience at the concerts, the first of which will be on Sunday, Jan. 8, in Kansas City, Kan. Mathison said for audience members, the experience can be transforming.
"The audiences are just amazed at the quality," she said. "I don't think I've ever been to a concert where there wasn't a standing ovation."
Voth said the audience's response helps to bolster inmates' feelings of self-worth. She remembered one particular comment an inmate made to her after a show.
"'Do you have any idea what it feels like to get a standing ovation when you've been told all your life you're absolutely worthless?' That says it all for me," she said.
The concerts contain a mix of sacred and secular music, Voth said. She said she liked to have the inmates sing in at least two languages to provide "a bit of an education," so this month, they will perform songs in Italian, Russian and Latin.
Voth also has a new twist up her sleeve for the upcoming shows. She plans to combine a rap song with Gregorian chanting.
The rap song was written by Essex Sims, a maximum-security inmate at LCF. Voth acknowledged that most raps contain "words that are not very edifying."
"But this man has written what's called a rap of redemption. In it, he says how he regrets the pain he's caused people," she said.
Sims cannot leave the prison, so a CD of his song will be played at the concerts. During the chorus, "I wish I never hurt you," the East Hill Singers will chant "Kyrie Eleison," which means, "Lord, have mercy."
"I'm anxious to see how this will come out," Voth said.
IF YOU GO
The East Hill Singers, a group of inmates from Lansing Correctional Facility and volunteers, will perform two concerts titled "How Can I Keep From Singing?" celebrating the group's 10th anniversary. The concerts will last about 1 hour and 15 minutes. Admission is free.
Concerts will be:
¢ 4 p.m. Jan. 8, Blessed Sacrament Catholic Church, 2203 Parallel Avenue, Kansas City, Kan.
¢ 4 p.m. Jan. 22, First Presbyterian Church, 2415 Clinton Parkway, Lawrence