Lansing girls face first league setback
Tonganoxie still team to beat in Kaw Valley League
The Lansing High girls basketball team knew it would have to beat Tonganoxie if it wanted to have a shot at winning the Kaw Valley League championship.
The Lions didn't achieve that goal Tuesday night as they suffered their first league defeat to the Chieftains, 60-43, at LHS.
Tonganoxie (6-0 overall, 2-0 KVL) went undefeated in the league last year and is the favorite to win the title again this year. The Chieftains still are talented, but they are vulnerable this year because they have less depth.
"They lost some key players, but I still think they execute really well," Lansing senior Amanda Radovich said.
Execution proved to be the difference. Lansing executed well for the first six minutes of the first quarter and the last eight minutes of the game. It was the weak moments in between that allowed Tongie to take charge and pull away.
LHS (3-3, 2-1) lost last year's games against Tonganoxie by an average of 30 points, but the Lions opened Tuesday's game on a 5-0 run. The Chieftains rallied and took an 11-9 lead, but a deep jumper by sophomore Amanda Darrow tied the game with 2:15 left in the first quarter.
Photo Gallery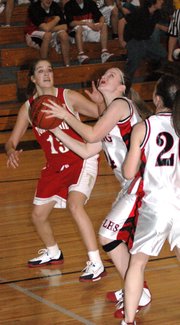 LHS girls fall to Tonganoxie, 60-43
The Lansing High girls basketball team dropped a 60-43 decision to Tonganoxie on Tuesday night during Kaw Valley League action at LHS.
Lansing appeared to be in striking distance of pulling off the upset, but Tonganoxie would have none of it. The Chieftains showed why they still are the class of the KVL as they used a 14-4 run to pull away.
"I think we just got kind of frustrated," Darrow said. "Everyone just wanted to win so we started pushing it and pushing it, and sometimes it didn't work out."
Tongie led by 24 entering the fourth quarter, but Lansing ended on a high note as it made a 20-13 run in the final eight minutes.
LHS coach Keith Andrews wasn't pleased with the final result, but he said his team had made great strides against Tonganoxie since the teams played last year. He said steps aren't good enough, though, if the Lions want to win the league title.
"We've got to want to get to where we're competing with them and have a chance to win," he said. "To do that, we have to execute, we have to do a better job rebounding and just finish some shots, make free throws and be solid. We're coming, but it's like pulling teeth sometimes."
Radovich said she was eager to see Tonganoxie again. Whether the squads meet in the Tonganoxie Tournament in two weeks, or when they play Feb. 10 at THS, she said Lansing could win if it tweaked a few weak areas.
"We've got them again, maybe two more times, and I think we can take them," she said. "We did a couple things wrong, missed some free throws and that was the game."
Lansing doesn't have much time to dwell on the loss. It has another game looming at 6 p.m. Friday when it plays host to league rival Piper. The Lions won last year's meeting, 61-45, but the Pirates stayed close for most of the game thanks to then-junior Allison Brown's long-range shooting.
Andrews said his squad is capable of winning again this year as long is it tightens up its defense and takes care of the ball.
"We've got to make those shooters put the ball on the floor and drive in to our big people," he said.
Ultimately, the goal is to win. Plain and simple. A loss essentially would eliminate Lansing's hopes of catching Tonganoxie in the league standings, but a win keeps all options open.
"We've got to beat Piper," Andrews said. "We've got to be 3-1 (in the league) now. We've got to do that to keep in the league race. All focus has to be on Piper."
JV FALLS TO 0-3
The Lansing High junior varsity girls twice cut 20-point deficits to single digits against Tonganoxie, but it wasn't enough as the Lions lost, 49-39, Tuesday night at LHS.
Nakia Becker scored six fourth-quarter points and freshman Natalie Loreti knocked down a 14-foot jumper to pull the Lions within eight late in the game, but that was as close as they got.
Becker scored a team-high 14 points. She has been the Lions' top scorer in all three games while averaging 11 points per contest.
FRESHMEN NOTCH FIRST WIN
The Lansing High freshman squad picked up its first victory of the season Tuesday night when it held off Tonganoxie, 34-31, at Lansing Intermediate School. Alexis Ellis led the way with 11 points, Keasla Hundley had 10 and Brooke Didde chipped in seven in the victory.
The Lions now are 1-3 this year.
Other freshmen players are Loreti, Kenzi Smith, Katherine Sebes, Katie Cristiano, Haley Gwartney, Lindsay Beamon, Cassandra Murphy, Mallory Barnhouse, Casey Andrews, Rebekah Sewing and Paige Reynolds.
DEERE LEAVES LIONS
Junior point guard Riann Deere, a starter for the first five games this season, left the team for personal reasons. Deere had battled a back injury since last year.