Lions win 'ugly'
In classic Lansing-Tongie fashion, game is sloppy slugfest
The statistics weren't pretty, the shots were ugly and the free throws were downright hideous, but the final score - Lansing 48, Tonganoxie 40 - was the only thing that really mattered.
After all, whenever Kaw Valley League rivals Lansing and Tonganoxie meet in boys basketball, it seems fans are guaranteed to see an ugly, highly-contested contest.
"It's been that way for a long time," LHS coach Don Allen said of the history of sloppy games between the two programs. "Every year we're almost guaranteed at least one overtime game with them. Generally there's a couple. It's just something where they want to come out and play hard and we want to come out and play hard. I think sometimes both teams try so hard that it just doesn't look real pretty sometimes."
Such was the case Tuesday night. Every shot was either forced or closely guarded and Lansing (3-3 overall, 2-1 KVL) made just 35 percent (16-for-46) of its field goal attempts.
"Tongie was doing a good job on the defensive end," Allen said. "The truth of the matter is they made it pretty difficult to run our offense, and then what we did instead of focusing on execution, instead of being a little bit patient and making them play a little defense, we thought we'd put it on the floor and go to the hole and try to make some superstar shots."
Photo Gallery

Lansing boys hold off Tonganoxie, 48-40
The Lansing High boys basketball team upped its record to 3-3 with a 48-40 victory over Kaw Valley League rival Tonganoxie on Tuesday night at LHS.
Even the freebies weren't free. LHS hit only 15 of its 35 free throw attempts.
"We struggled from the free throw line for three quarters," Allen said. "I know we were like 1-for-12 at halftime."
The Chieftains (0-6) were better offensively - they made 18 of 42 shots - but committed 14 turnovers. The Lions turned it over just six times.
LHS will need to do a better job on offense if it hopes to beat league foe Piper when the squads meet at 7:30 p.m. Friday at Lansing. PHS is known for having more size on the inside and sharpshooters on the perimeter that are tough for opponents to match.
"They're real solid," Allen said of the Pirates. "We'll definitely have our work cut out for us. We're going to have to play well. Hopefully knocking out a few of the kinks tonight (will help)."
JV FALLS IN OVERTIME
The Lansing High junior varsity boys were unable to protect a five-point lead during the final two minutes of regulation against Tonganoxie.
THS closed the fourth quarter on a 6-1 run to force overtime and then handed Lansing a 60-56 defeat after the extra period. The Lions fell to 1-2 with the loss.
JV team members are Bobby Hauver, Chris Hill, Kris Hernandez, Ryan Willcott, Matt Sittenauer, Mauritz Meyer, J.T. Collins, P.J. Sigle, Justin Smith, Kyle Miller, Elias Moya, Will Johnson and Stephen Didde.
The primary highlight for Lansing was a 24-point effort from Didde, a sophomore forward. It marked his second dominating performance of the season and topped his 17-point showing against Basehor-Linwood on Dec. 13.
Didde's strong play also earned him a call up to the varsity squad. He suited up for his first varsity game Tuesday night and saw about four minutes of action.
Photo Gallery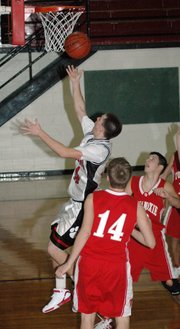 JV boys fall to Tonganoxie in OT
The Lansing High junior varsity boys basketball team dropped a 60-56 decision to Tonganoxie in overtime Tuesday night.
"I would've liked to have given him a couple more minutes to let him get up and down the floor a few more times, but it just didn't happen tonight," Allen said of Didde, who didn't mists a day of summer weights. "He's been playing real well for us, so we're going to try to see if we can find him a couple (varsity) minutes here and there and see if he can help us a little bit. It never hurts to be able to have a 6-foot-4 guy on the floor."
FRESHMEN REMAIN UNDEFEATED
Talent and depth both have been strengths for the Lansing High freshman boys this season, and that was the case Tuesday night when LHS beat Tonganoxie, 53-49.
The Lions led by double-digits for most of the game before the Chieftains rallied late. Peter Gibson led all scorers with 19 points. Matt Robbins had nine points and Clayton Hall chipped in eight in the victory.
Lansing improved its record to 3-0. It also beat Basehor-Linwood, 48-36, and Mill Valley, 48-40, earlier this season.
Gibson may have been the star against Tonganoxie, but Lansing's scoring balance has been its greatest asset this year. A different player has led the team in scoring each game. Cody Rush did the honors with a game-high 19 points in the win against Basehor, and Cameron Trowbridge was the high scorer against Mill Valley with 14 points.
Freshman team members are Gibson, Robbins, Hall, Rush, Trowbridge, Curtis Beall, Cody Morlan, Kyle Willcott, Metin Depaolis, Eddie Silva, Joe Goll, Hawkins Hall, Ezra Carpenter, Nicholas Novak and Ryan Delich.