Opposition surfaces to proposed ban on smoking in city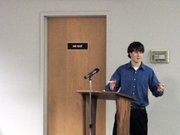 A proposed smoking ban in Lansing remains on the table but appears to have trouble gaining backing among a majority of City Council members.
Lansing resident Matt Gledhill last week returned to the City Council to present his case for a ban on smoking in all public places. At the end of nearly 30 minutes of discussion - both pro and con - about the ban, Mayor Kenneth Bernard told Gledhill the topic would be placed on a future work session agenda for council members.
When the session will be has not yet been determined, Bernard said this week.
"It won't be this month, we're all full for this month," he said.
When the session will take place isn't the biggest concern for Gledhill. Two council members at Thursday's meeting came out flatly against the proposal: Dee Hininger and Kenneth Ketchum. And Council member Andi Pawlowski said this week she didn't support the measure.
That means Gledhill must convince all of the remaining council members to gain a majority.
Hininger, a nonsmoker, said the decision whether to allow smoking shouldn't be imposed by anyone other than the business owner and clientele.
"If I decide to go to a restaurant because the food's good or the atmosphere is good, I either tolerate the smoke, (or) if it's too smoky, I'll either get up and move or I'll leave," Hininger said. "But that's my own choice as an individual to go to that restaurant.
"And that's the business' individual right to choose if they want to have smoking or not smoking. : I believe it's up to the businesses to choose if they need smoking."
Hininger also said it would be economic suicide for Lansing or Leavenworth County to ban smoking in restaurants as long as smoking is allowed in the restaurants around the Kansas Speedway in Wyandotte County.
"I had one business individual that I spoke to said he had lost already almost 40 percent of his business just from Wyandotte County" without a smoking ban, he said.
Ketchum, who told the audience he enjoyed an occasional cigar, said he favored fewer rules for business, not more.
"Their business is their business. If they choose to have a smoke-free place, so be it. If they want to have smokers : I think we have a choice," he said.
Pawlowski, in an interview this week, said she didn't think the council should be involved in banning what already is a legal activity.
"I just don't think we should be messing with that stuff," she said. "If a business wants to not have smoking, I applaud them for it, but we shouldn't be telling them want to do."
Gledhill gave a PowerPoint presentation filled with statistics detailing the evils of secondhand smoke, including its reported effects on young children, expectant mothers and workers exposed to it in the workplace.
Though one of Gledhill's stated goals was to "clarify the myths" about smoking bans, two audience members challenged some of his "facts."
Joe Bolduc, president of the Kansas Business Rights Association and a bar owner in Shawnee, told council members that Gledhill's statistic about 53,000 deaths caused by secondhand smoke was first made by a social scientist whose court testimony was tossed from a lawsuit by a federal appeals court.
Mike Casey, vice president of marketing for the Kansas Restaurant and Hospitality Association, rebutted Gledhill's assertion that smoking bans don't hurt businesses.
"People say there were no effects in Lawrence," where a smoking ban in all enclosed workplaces was enacted in July 2004, Casey said. "They didn't talk to some individual business owners."
"I'll give you people to call and talk to, people who have literally gone out of business. Now maybe there were other factors, but (smoking) was one of the factors," he said.
Council member Robert Ulin reasserted his support for a ban.
"If it comes to a vote, I'm going to vote for a smoking ban," he said.
Ulin noted that any number of municipalities across the country already have had or would be scheduling referendums on smoking bans. But he said he didn't favor a vote in Lansing, despite the predominance of nonsmokers in the electorate.
"If you put it before the voters, they might ban smoking in this town," he said. "Personally, I'm against it. I think our (the council's) responsibility is for the public health and safety for every citizen."
Ulin and Billy Blackwell are the lone council members to thus far voice support for a ban. Yet to make their stances public are council members Don Studnicka, David Trinkle Jr. and Harland Russell.