Alumni tourney finances
LHS

basketball scholarship
At the same time that the University of Kansas men's basketball team was pummeling No. 19 Kentucky on Saturday morning in Allen Fieldhouse, about 50 former Lansing High basketball players were reliving their glory days on the hardwood at Johnsmeyer Gymnasium.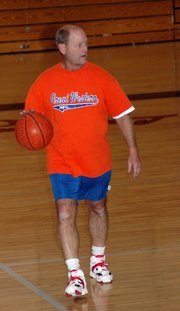 The occasion was the 14th annual Rick Elliott Scholarship Tournament. The alumni tournament, named after Lansing Middle School teacher Chris Elliott's deceased older brother, raises money to fund a scholarship for a senior boys basketball player each year.
Rick Elliott was a three-sport athlete at LHS before graduating in 1971. He then played third base on the baseball team at Emporia State. As a team captain during his senior season, he led the Hornets to a third-place finish at the NAIA national tournament.
Rick Elliott committed suicide in June 1980. Then, in 1993, LHS alumnus Damon Hininger wanted to start an alumni tournament at Lansing, similar to the one at Immaculata High School. With that, the tournament was born.
"The first two years we gave a $600 scholarship," Chris Elliott said, "but then my brother (Jeff Elliott) got involved and got sponsors. Now we give about a $1,000 scholarship each year."
The senior players must submit applications for the scholarship to Chris Elliott by Feb. 24. Then, the applications will be voted on by a five-person panel. Players' names will be removed from the applications before they are reviewed to keep the process anonymous.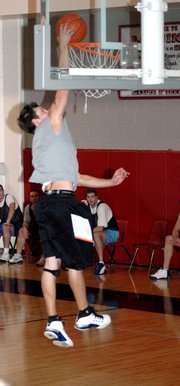 Chris Elliott said he does not participate in the selection process; he just organizes the tournament.
"I try to stay out of it because I know all of the kids and have had most of them in class," he said.
The scholarship recipient will be announced at the winter sports awards assembly on March 16.
For Chris Elliott, the tournament is rewarding for a number of reasons. It helps a player go to college each year, it provides a chance to get some exercise and it brings old friends together.
"It's fun to see all these guys come back because I coached a lot of them," he said. "It's nice to see them all come back."