Father, son team up in business
Wachovia Securities office opens in expanded Main Street Center
A new financial services company in Lansing has a decidedly family aura about it.
Wachovia Securities opened its doors last month in Lansing at 848 N. Main St., and the two principles in the branch are Jeff Lashley, who has been in the financial services business for a dozen years, and his father, Bob Lashley, longtime chief financial officer for a local savings and loan association. Assisting at the office is Jeff's wife, Sarah Lashley.
"Between my father and me, we have 42 years of combined financial services experience," said Jeff Lashley, who has lived in Lansing since 2002.
Wachovia Securities, he said, is the nation's third-largest brokerage firm and offers a wide array of financial services, including financial planning, asset management, trust services and estate planning. The firm's ties to Wachovia Bank allow the branch office to also offer most banking services, too, he said.
The father and son said the continuing growth of the Lansing and Leavenworth community was one of the factors in opening the branch.
"With Wachovia, we feel we have a lot we can bring to people," Jeff Lashley said. "There's a lot of people going into Kansas City now to get these kinds of services we offer."
Potential customers shouldn't worry about getting lost in Wachovia's vastness, though, they said. The Lashleys say they offer their services with the personal touch.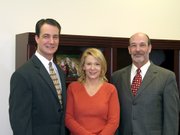 "We give the one-on-one service," said Bob Lashley, who grew up in Leavenworth. "It's really personalized, getting to know our clients and them getting to know us."
In addition to working with the Wachovia network, the Lashleys said also they would call on local attorneys and certified public accountants to help their clients.
"We feel that way we can cover all the bases," Bob Lashley said.
Jeff Lashley said people shouldn't wait to begin financial planning.
"Most people spend more time planning a vacation than their financial future," he said. "We hope to help people improve on that."
The Wachovia Securities office, in the new extension at the Main Street Center, is open from 8:30 a.m. to 4:30 p.m. Monday through Friday.