Johnsmeyer family, friends 'thrilled' with dedication of gym
From the time he first drove into Lansing during the summer of 1948 until July 29, 2002, when he passed away, Earl Johnsmeyer was known as a giver.
Whether it was giving a lesson in character, advice as a school counselor or instruction as a basketball coach, Johnsmeyer always looked for ways to bring out the best in people. In fact, upon their passing, Johnsmeyer and his wife, Irene, left their entire estate to Lansing School District to fund academic scholarships.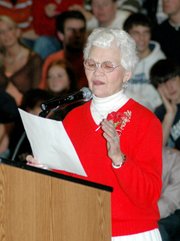 Through it all, Johnsmeyer always saw it the other way around. In his mind, he wasn't the giver. He was the receiver.
"Lansing has given so much to Irene and I," Johnsmeyer wrote in a short autobiography. "We wanted to leave something to Lansing."
For all the memories the city and Lansing High School provided Johnsmeyer during his lifetime, there was one more gift left in store for him. It came posthumously when the LHS gym was renamed Earl W. Johnsmeyer Gymnasium on Friday.
"I was just thrilled that they did it," said Bob Peterson, Johnsmeyer's nephew, who traveled from El Dorado to attend the ceremony. "I was very moved by that because it was truly a deserved honor. My mother (Johnsmeyer's sister) couldn't make it tonight because she's not very mobile, but as a family we are very, very pleased about this."
Although Johnsmeyer's coaching success - he posted a 98-8 record during his first four years at LHS - was the main factor behind naming the gym after him, that wasn't the quality that endeared people to him the most, Peterson said.
"He was full of such integrity and ethics," Peterson said. "I remember at his funeral service, one of his ball players came up to me and said, 'Your uncle, it was more important to him that players be winners than that they win ball games.' That's a great philosophy not only for the sports arena, but for life's arena. He taught me that, too."
Peterson said that over the years he'd enjoyed talking to Johnsmeyer's former players. Through them, he said, he'd learned even more about his uncle.
"I think the most interesting thing that one of his former players said to me was that he didn't realize what a great coach Coach Johnsmeyer was until years later," Peterson said. "You know, that's just like the very famous John Wooden of UCLA fame. His players thought the same thing. And I always thought of Uncle Earl as the John Wooden of small-town Kansas."
Johnsmeyer's influence on his players was so strong that 24 of them returned for the gym dedication. Some didn't have far to go because they lived in Lansing or Leavenworth, but others traveled great distances to be there. Among them were Noel Bates (Class of 1964), who flew in from Largo, Fla., and George Studdard (Class of 1951), who came back from Wichita Falls, Texas, for the dedication.
"Next to my parents, Mr. Johnsmeyer was probably the most influential person in my life," said Jim Buchannan, who played for Johnsmeyer in 1965 and came back from Lyndon, Ky., to be in attendance Friday. "I attribute much of the success that I've had in my life to the qualities that he instilled in me. He was one of the finest men I've ever known."