David Kern sees the light at the end of the tunnel, but it is taking longer for him and the Lansing High boys basketball team to get there than he thought it would.
"It seems like we're almost there as a team, but we just can't get over that last hump," Kern said, explaining why the Lions are 3-4 overall and 2-2 in Kaw Valley League action.
Kern admitted he and his teammates expected to have a better record this year after winning just seven games during the 2004-2005 season. They expected to compete for a league title.
Both goals seem attainable if they can clear that "last hump." The obstacle is offense - specifically, a lack of offense.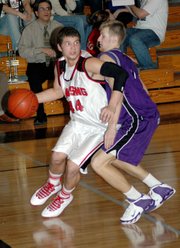 The Lions' offensive stats have been nothing to cheer about this season. They've made barely 36 percent of their field goal attempts and made just 100 of 160 free throw tries. Plus, they're hitting just 29 percent from beyond the arc.
"We've got to keep shooting, knock down a few and get some confidence," LHS coach Don Allen said. "We've got to keep working on it. You've got to keep thinking that the shots are going to fall eventually."
If the shots would have fallen sooner, Lansing might be in pretty good shape. After all, two of its losses are by just five points, and it stayed close Friday night against Piper despite shooting just 32 percent from the field. Realistically, the 60-44 loss to Mill Valley on Dec. 16 was the only game LHS ever was out of.
"I'm not sure why we're not hitting a lot of open shots that I thought we could knock down, but until then we've just got to keep working on it and keep knocking them down in practice," Allen said. "We've got to get confident that we can shoot 'em in a ball game."
While the offense has struggled, Lansing has kept games close with stifling defense. Only twice has an opponent reached the 60-point plateau against LHS this season, and three foes have been held in the 40s.
"Defensively, I think our effort and intensity has picked up over the last few ball games," Allen said. "I'm really happy with the defensive effort."
Lansing's full-court trap gave both Tonganoxie and Piper trouble during the last two outings, but the Lions' inability to finish after forcing turnovers kept both games low-scoring.
Kern said he thought the 7:30 p.m. Friday game against Bonner Springs at the Bonner Springs YMCA could be the turning point for LHS. The teams squared off in the same building on Dec. 14 and BSHS hung on for a 51-46 victory. Lansing made just 11 of 41 shots during that game.
"If we can beat the, that would give us a lot of momentum," Kern said. "But that's the thing. We have to beat them."
JV boys fall to Piper
The Lansing High junior varsity boys fell behind Piper by 13 points in the first quarter, and that deficit proved to be too much to overcome.
The Lions matched Piper shot for shot the rest of the way before falling, 64-52, on Friday night at Lansing Intermediate School.
Lansing rallied to within 48-43 late in the third quarter on back-to-back jumpers by sophomore Stephen Didde, but that was as close as LHS got.
Didde led the way with 14 points. Justin Smith added 10.