Taking a bite out of crime
Members of Basehor police squad learn fingerprinting techniques
Whooo are you? Who, who?
Thanks to some advanced training from a crime-scene specialist, Basehor police soon will be able to more easily identify people who commit unsolved crimes.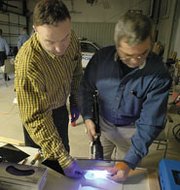 Tuesday morning, Kansas Bureau of Investigation crime scene expert John Horn conducted a training session with a half-dozen police officers. The session covered the latest techniques in identifying and removing fingerprints from crime scenes.
Department veteran Lloyd Martley, in his first year as a detective, said the new techniques would be "invaluable" in working cases and would pay immediate dividends.
"The information we received definitely gives us a different avenue for lifting stuff," Martley said. "It will help in a lot of cases of home invasion or theft."
The new techniques will also allow police to expedite the print process. Findings will be forwarded to a computer system in Topeka.
AFIS, the Automated Fingerprint Identification System, is a KBI database that includes the fingerprints of 38 million criminal suspects and 39 million civilians.
"It's a very useful tool for unsolved crimes," police chief Terry Horner said. "Anyone who's ever been fingerprinted in the United States is in that computer.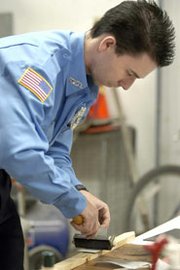 "With AFIS, we can take that print and access information on a national level. ... (The new techniques) allow us to collect certain evidence that will lead to arrests and convictions."
The police department recently purchased two new fingerprint kits. One will be used exclusively by the department investigator and the other will be available for officers on patrol.
One of the techniques on display Tuesday was what's called, "super gluing." The process entails lifting a fingerprint by fuming an enclosed area with chemicals. Officers also learned how to remove prints more easily from items such as a firearm, a can or a document.
Horner led a segment of the training session on plaster casting. The process included removing fingerprints or tire prints from a scene in inclement weather.
Tuesday's training session was part of a new emphasis by the police department to take part in 96 in-service hours throughout the year. Officers spend one day a month training.
Horner instituted the policy when he was hired in 2003.
"A lot of agencies don't have that, but we certainly do here ... and we're going to continue to do that," Horner said.
"When I hear from the public we should cover a certain area in our training, I add it to our training day," the police chief said. "It's about securing a suspect and a conviction. We want to give our officers all the tools and knowledge we can to help them do that."