REVENGE

!
Lions avenge last year's losses with convincing 63-41 victory
Bonner Springs — The last two times the Lansing High girls played Bonner Springs in basketball, the Lions found themselves sulking to the locker room after Bonner then-freshman Kelsey Stanbrough bombed in three-point buzzer-beaters that led to Lansing losses.
Those losses came last year, and the Lions spent all summer, all fall and all winter boiling at the thought that now-sophomore Stanbrough might burn them again.
The Lions made sure that wasn't the case Friday night at the Bonner Springs YMCA as they erupted to an 18-4 lead and never looked back. They led from start to finish and scorched the nets for a 63-41 victory that was never in question.
"This game was total revenge," said senior Rachel Darrow, who heavily guarded Stanbrough on both of her buzzer-beaters last year. "We wanted to put it right back in their face, not only by one buzzer shot, but by a blowout to prove to them how much better we are (this year)."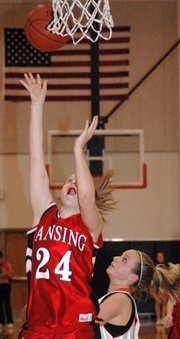 Senior forward Amanda Radovich agreed.
"They didn't even have a chance to hit a last-second bucket," Radovich said. "Eight last-second three-pointers wouldn't have done it."
The biggest difference for Lansing between last year's games - losses of 52-51 and 65-53 - and Friday night was the Lions' focus. They blew late leads in both games a year ago, but this time they started strong and finished stronger.
"I was a little worried at the beginning that we might be overhyped that way because they wanted to win so bad, but they came out and played solid," LHS second-year coach Keith Andrews said. "I was extremely pleased with the effort and the control on the court. It was just outstanding."
The Lions (5-3 overall, 4-1 Kaw Valley League) came out firing on all cylinders. They sank nine of 18 shots in the first quarter, including a five-for-eight effort from Radovich in the post.
The hot shooting continued throughout the second quarter as sophomore point guard Katie Nietzke bombed in a three-pointer, Radovich scored on a put-back and freshman guard Brittney Lang sank two 18-footers. By halftime the Lansing lead was 33-17.
The offense during the first two quarters powered the Lions, but the real difference was the defense. Stanbrough burned them for nine three-pointers last year, but she was held scoreless during the first half Friday when Amanda Darrow, Rachel Darrow and Nichole Twitchel guarded her.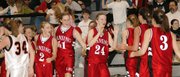 "She's a very important player to their team, and we talked about all week was shutting her down, taking away the three and making her go to the baseline every time," Nietzke said of Stanbrough. "Once we got her down we got her a little frustrated, and it felt really good."
Unlike previous games where Lansing let up after building large leads, there was no sign of slowing down. Nietzke drilled back-to-back treys to open the third quarter, and Rachel Darrow sank a three-pointer. A lay-in by Radovich pushed the lead to 20 points. The lead continued to grow throughout the fourth quarter, even when the starters sat for most of the final four minutes. A pair of free throws from sophomore Morgan Chiles pushed the advantage to 61-32 with 2:40 left before Bonner closed to within 22 at the final buzzer.
For Lansing, the game could be a major turning point for the program for a number of reasons. First, Andrews said it was the best his squad has played since he has been coach. His players agreed.
"I even made a comment about that in the locker room that I think that's the best basketball I've ever seen this program play together in a long time," Nietzke said.
The biggest turning point, though, is that the win keeps Lansing in the running for a league championship. The Lions started last year with a 3-1 league record before a mid-season slump took them out of contention. This year they're 4-1 and in second place and just one game behind defending champion Tonganoxie.
"It's really exciting to see what this team can possibly do," Radovich said. "Bonner only lost to Tongie by one. We get (Tongie) one more time, so if we can play four complete quarters, I think we have a chance."
Radovich led all scorers with 20 points Friday night. Nietzke scored 15, Rachel Darrow, Twitchel and Lang had eight apiece, and Chiles and Amanda Darrow chipped in two each.
Lansing next plays at 6 p.m. Monday against Silver Lake at the Tonganoxie Invitational Tournament.
BONNER SPRINGS 61, LANSING BOYS 53
For three and a half quarters Friday night, the Lansing High boys played neck-and-neck basketball with Bonner Springs.
Then, in prime position to steal a Kaw Valley League road victory, the Lions lost their momentum in the final minutes and were unable to hold on as the Braves pulled away for an eight-point victory.
The loss was Lansing's fourth in its last five games.
"It's frustrating," LHS coach Don Allen said. "We're working hard, they're playing their butts off and we just can't get over the hump. The staff's a little frustrated. The kids are a little frustrated. The thing is we've just got to stay together and keep working."
The game shouldn't have come down to the final minutes. Lansing have plenty of opportunities to put the game away early - very early. LHS surged to a 10-4 lead on Cody Mohan's layup with 1:41 left in the first quarter, but back-to-back turnovers fed a 7-0 run by Bonner to close the first quarter.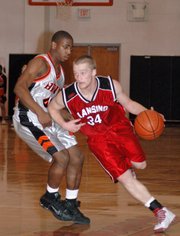 "It was nice to see us come out and start hitting some shots and get some confidence," Allen said.
After four second-quarter lead changes, Bonner inched ahead for a 22-19 lead at halftime. The Lions (3-5) had plenty of reasons to feel confident at that point. After all, they hit eight of 18 shots in the first half, marking the first time in weeks that they'd shot the ball effectively. The Braves only led because they capitalized on numerous offensive rebounds and had six second-chance points in the first two quarters.
Bonner was in position to pull away early in the third quarter as it stretched its lead to 26-19 on back-to-back buckets by Anthony Brown and Nick White, but a free throw by Jeff Slater, a three-pointer from Matt Warner and a three-point play by David Kern suddenly made it a two-point game.
Lansing eventually tied the game at 35-35 on Slater's baseline layup with 2:45 left in the third quarter. A jumper by Wagner and a pair of free throws from Kern gave LHS a 39-36 advantage. Sloppy play in the final minute of the quarter allowed Bonner to come back, though, and a jumper from Isaac Garlington sent BSHS into the fourth quarter with a 41-40 lead.
The Braves' small lead didn't last long. Wagner banked home two 14-footers and Kern scored on a layup to give the Lions a 46-43 lead with 5:29 left. The momentum shifted back, though, when Brown swished another three-pointer. Jeff Hills followed with an 18-footer that gave the Braves the lead for good.
The Braves led just 50-49 with 1:20 left, but they sank 10 of 14 free throws down the stretch to seal the victory.
Hills led all scorers with 17 points for Bonner. Slater led Lansing with 16 points. Kern scored 13, Wagner had 10, Warner added five, Mohan had four, Jeff Jackson scored three and Austin Reynolds chipped in two.
Lansing next plays at 4:30 p.m. Tuesday against Atchison in the first round of the Tonganoxie Invitational Tournament.