Lansing sinks against Silver Lake
Coach cites no intensity, fire, desire in loss
Tonganoxie — The Lansing High girls basketball team picked the wrong time to take the night off.
Lansing, fresh off an explosive 63-41 victory Friday night at Bonner Springs, showed no signs of giving a repeat performance Monday night against Silver Lake in the first round of the Tonganoxie Invitational Tournament.
The Lions were sloppy and sluggish from start to finish. As a result, they were thumped by the Eagles, 52-34.
Photo Gallery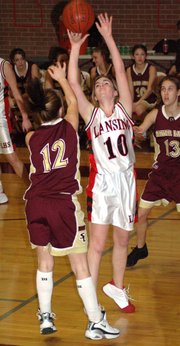 LHS girls drop Tongie Tourney opener to Silver Lake
"No intensity. No fire. No desire. (It was) the complete opposite of Friday night," LHS coach Keith Andrews said. "What we had, you could get in P.E. class any day of the week. You could pick up five anybodys and you could get that."
The Lions (5-4) were stagnant from the start. They fell behind 15-6 after the first quarter thanks to a variety of things: poor shot selection, bad passes, six turnovers four of which were the result of players attempting to dribble through double-teams. On defense, they repeatedly were burned for layups or allowed the Eagles to have wide-open looks on jump shots.
The same problems remained throughout the second quarter and Silver Lake took a 29-18 lead into halftime. Lansing made just seven of 24 shots in the first half. Meanwhile, Silver Lake sank 12 of 25 first-half shots.
Andrews was steaming at halftime, but his squad was unresponsive at halftime.
"It was almost like they were searching for answers," Andrews said of the atmosphere in the locker room at halftime. "Rather than wanting to get out and do it, it was almost like they were waiting for somebody to do it. It's got to be more effort than that. We've got too good of kids to sit around and hope and wait. We've got to go out and put effort into it and go."
The second half was more of the same. Nobody stepped up. The defense didn't improve. Neither did the offensive production. Lansing shot just 26 percent (12-for-46) for the game, made nine of 16 free throws and missed 10 of 11 three-point attempts.
Silver Lake senior Stephanie Bryant was the game's high scorer with 21 points. Amanda Radovich led Lansing with 16 points. Rachel Darrow added eight points, Katie Nietzke and Nichole Twitchel had four apiece, and Christine Cordes and Brittney Lang each had one.
Lansing next plays at 3 p.m. Thursday in the consolation semifinals at Tonganoxie High School.