Redmen survive Lions' challenge
Lansing plays best game of year against No. 4 Atchison
Tonganoxie — Few people were surprised by the Lansing High boys basketball team's loss to Atchison Tuesday afternoon in the first round of the Tonganoxie Invitational Tournament.
The Redmen were the defending tournament champions and ranked No. 4 in Kansas Class 4A. They also throttled the former No. 1 team in Class 5A, Topeka Seaman, 88-68 earlier this year. So no, their victory wasn't a shock.
The outcome may not have been stunning, but the final score was.
Atchison 64, Lansing 58.
Not only was the final margin just six points, but LHS trailed by only three with 27 seconds left. Yes, the 3-6 Lions took the 8-2 Redmen to the wire in one of the biggest nailbiters of the tournament.
Atchison sprinted to an 8-0 lead in the first 2 minutes, 29 seconds, but Lansing answered with eight unanswered points as Matt Warner and David Kern converted layups off assists from Chris Wagner. Jeff Slater and Jeff Jackson then scored from close range to tie the game. AHS then surged ahead, 14-11, but Slater scored on another layin and Kern converted a three-point play to give LHS a 16-14 lead after the first quarter.
Photo Gallery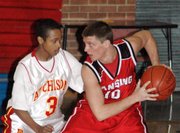 LHS boys fall to Atchison at Tongie Tourney
The Lansing High boys basketball team dropped a 64-58 decision to fourth-ranked Atchison on Tuesday afternoon in the first round of the Tonganoxie Invitational Tournament.
Jackson opened the second quarter by converting a three-point play. That gave Lansing its largest lead of the game at 19-14. Atchison answered with back-to-back treys from Anthony Downing, but back-to-back buckets from Slater put LHS back on top, 23-20. Another three-pointer from Downing tied the game. After two more ties, the Redmen opened up a 31-27 lead with 1:20 left in the quarter, but Cody Mohan sank a pair of jump shots in the final minute to send the game to halftime tied at 31-31.
Lansing actually outshot Atchison in the first half. LHS made 14 of 23 shots compared to 12-for-27 shooting by AHS, but the Redmen's three-point shooting kept the game tied.
The Lions wasted no time proving their first-half effort wasn't a fluke. David Kern scored back-to-back buckets and a pair of free throws. Slater added two free throws and a layup. Then Jackson scored on a layin off a nice feed from Wagner that gave them a 43-41 lead with 3:08 left in the third quarter.
Atchison's Mark May scored on a put-back to tie the game, but Lansing senior Austin Reynolds but LHS back on top with a free throw with 2:19 left in the game. That would be Lansing's last lead.
The Redmen closed the third quarter on a 6-2 run and then scored the first seven points of the fourth quarter to stretch their lead to 56-46 with 6:16 left. That's when the Lions mounted one final surge.
Three buckets from Slater and two more from Wagner suddenly trimmed Atchison's lead to 58-56 with 2:21 remaining. A free throw by Downing and two more from J.J. Seymore pushed the lead up to 61-56, but Jackson nailed a floater to trim it back to three. The Redmen hit three of four free throws in the final 17 seconds to hang on.
Lansing finished the game 25-for-46 from the field. It marked the first time this year the Lions shot 50 percent or better. Slater led the way with 21 points. Jackson scored 12, Kern had 10, Wagner and Mohan added six apiece, Warner had two and Reynolds scored one.
Lansing next plays at 4:30 p.m. Thursday against Eudora in the consolation semifinals.
For more on Lansing's game against Atchison, pick up the Jan. 19 edition of The Current of visit lansingcurrent.com.