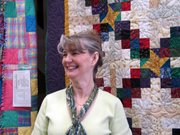 Don't suggest to Jerry Stube that quilting is a pastime reserved for elderly women.
The owner of Quilter's Quarters, a quilting shop at 205 Delaware St. in downtown Leavenworth, politely dismisses the notion with some statistics from her own research, anecdotal and otherwise.
"Nationwide, the median age of a quilter is 58," she said. "However, locally, I would say our median age is closer to 38 to 42."
More and more, she said, men are taking up the hobby.
"We have a fair percentage of men who quilt now," she said. "The ones that do get into it tend to be those who are more mathematically involved. Some of the top male quilters were engineers to start with; they've been fantastic."
The Lansing resident has been quilting since 1972. In 1994, she was a founding member of the Sunflower Piecemakers, a quilt guild, and in 1996 she opened her quilting business.
It's truly a business she loves.
"You can't feel bad when you're around all this," she said, waving her had about the quilt adorned walls of the shop.
A former civil servant, Stube said everyone can relate to a quilt. She was working one day in an Army hospital in Washington. On the walls of her office, she had several quilts hanging.
"This man came in and he was furious. He was just livid. He walked in my door and he was just : Then he just kind of stopped and said, 'Boy, there's a quilt. My grandmother used to make quilts.' You could just see the anger dissipate.
"I call it my own personal software. It turned me into a person instead of an institution that he was angry with," Stube said. "It has that affect on people. Everybody has seen or touched a quilt or their grandmother did it or their great aunt did it or they saw one at Molly's house or whatever. It's a softer world, a slowed down world. It's a real comfort zone for people."
Name: Jerry Stube
Address: 185 Canyon View Drive
Occupation: Self-employed, owner, Quilter's Quarters
Family: Husband, John; daughter and son-in-law Sharon and Mike Van Alsburg and their daughter, Rowan; and daughter Brandy Stube
How long have you lived in Lansing and what brought you here? 20 years total; the military
What do you like most about Lansing? There is nothing I don't like about Lansing.
What do you do for fun? Quilt, and I play with my granddaughter.
What would surprise people about you? That I was a very shy person when I was younger.
What's the best advice you ever received? Today is the only day you have, enjoy it.
What organizations or clubs do you belong to? Sunflower Piecemakers, Kansas Quilters Organization, Main Street Association, Leavenworth- Lansing Area Chamber of Commerce.