Class marks parent's safe return
The homecoming of U.S. Army Staff Sgt. Charles Batorson's unit to Fort Riley was bittersweet. Four members of the unit, stationed in Taji, Iraq, were killed by a roadside bomb in December, just before the group was scheduled to come home.
December was a hard time for Altagracia and Savannah Batorson, Charles' wife and daughter. When a soldier is killed, a blackout on communications is placed on the unit so word does not leak out before the family is notified. The blackout frustrated Charles and sent both Savannah, a second-grader at Lansing Elementary School, and her mother to LES counselor Janie Hodam in tears.
"It's really, really, really hard knowing he could die any moment, leaving us behind," Altagracia said. "It's very stressful for all three of us."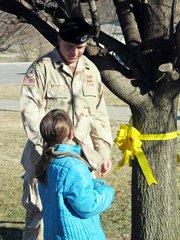 But the family was happily reunited Jan. 7 when Charles returned from his second tour of duty in Iraq.
The Batorsons met Friday afternoon at LES to cut down a yellow ribbon put up in Charles' honor before he left.
Before the ribbon cutting, Charles and Altagracia visited Savannah's classroom, where students read letters of appreciation for Charles. One said, "Dear Mr. Savannah's Dad, Thank you for keeping us safe." Another read, "You are so excellent at being an Army man."
There was also time for a short lesson on Charles' job. In Iraq, he was based at Camp Cooke and was responsible for base defense, Charles said.
"My unit, we just protected everybody else," he said.
One student asked, "Was it very dangerous?"
"Sometimes, yeah," he replied.
Students asked where he slept and what he ate; he said he lived in a trailer, slept in a bed with a mattress and ate foods like eggs and sausage, not Meals Ready-to-Eat (MREs) as some soldiers must do.
One student asked if Charles spent a lot of time fighting in the woods; another wondered what exotic animals he had seen. There are not many woods in Iraq, Charles said, but he did see camels and llamas.
After two trips to Iraq, Charles said he would be able to stay in the United States for the next two to three years while he trains at Fort Sill, Okla., to become an Army instructor.