Jekyll-and-Hyde performances rattle Lansing girls
Tonganoxie — About 20 minutes had passed since the Lansing High girls had finished accepting their 52-34 thumping from Silver Lake on Monday night at the Tonganoxie Invitational Tournament, but tears continued to well in Rachel Darrow's eyes.
Darrow, a LHS senior guard, couldn't get over the nightmare of a performance she and her teammates had just put on. How could this have happened? How could the Lions have fallen so far in just three days? After all, they had just played their best game in years - a 63-41 rout of the Bonner Springs Bravettes. How could they have lost their focus so quickly?
"That was not the same team as Friday night's team. That's for sure," Darrow said. "There was no enthusiasm.
"We've got to dig down inside and find whatever we found against Bonner. There's no reason to come off such a big win, such a meaningful win, and come out and play like this. It's not the same team."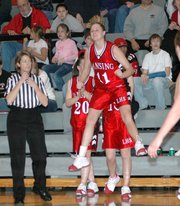 Perhaps the lone bright spot in Lansing's loss was the fact that it came in a non-league game. It won't hurt its second-place standing in the Kaw Valley League.
What Lansing found as motivation against Bonner was the fact that the Bravettes beat the Lions twice last year thanks to last-second three-pointers. They spent the entire last year fuming at themselves for letting the Bravettes back into both games, and the Lions were intent on proving they were better this year.
In fact, Darrow's very words after the game were: "We wanted to put it right back in their face, not only by one buzzer shot, but by a blowout to prove to them how much better we are (this year)."
The Bonner game was the first time in Andrews' two years as coach that Lansing put four solid quarters together. Both Andrews and his players said it was the best they'd ever played.
"I even made a comment about that in the locker room that I think that's the best basketball I've ever seen this program play together in a long time," sophomore point guard Katie Nietzke said after the victory.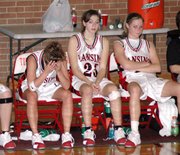 Said senior forward Amanda Radovich: "It's really exciting to see what this team can possibly do."
At their best - as they were Friday night - the Lions proved they can be explosive. The possibilities, the players said, include winning a KVL title.
At their worst - as they were Friday night -the results are catastrophic.
Now the Lions (5-4 overall, 4-1 KVL) are back to searching for their spark, searching for a way to reignite their fire to the level it burned against the Bravettes. The Lions must find that spark before they play at 3 p.m. today in the consolation semifinals against the Pleasant Ridge Rams.
"Pleasant Ridge is up there in the stands licking their chops," Andrews said. "They saw what we did tonight and they're fired up about it. I'm sure they can't wait to get us."