Lansing High boys finally gel, set sights on winning streak
Tonganoxie — Jeff Slater couldn't help but muster a grin as he talked about the Lansing High boys basketball game Tuesday afternoon against Atchison.
Sure, the Lions lost to the Redmen - ranked No. 4 in the state in one poll and No. 5 in another - 64-58, but the Lions had no reason to be angry. After all, they'd just played arguably their best game in two years.
"We knew we were playing a good team, and it kind of opened our eyes that we really can hang with these guys," Slater said. "I had fun today. I think a lot of the other guys had fun. We still have a lot of things that we need to work on, but I seriously think we can build off this."
Tuesday's effort certainly earned Lansing (3-6 overall, 2-3 Kaw Valley League) some respect both from its opponents - Atchison coach George Ross walked over to the LHS bench in the final seconds and told Slater "good effort" after he'd fouled out - and their peers, many of whom doubted Lansing even had a chance.
"Even kids at school were like, 'Man, we don't want to come. Atchison's going to kill you guys,' because they hung 101 points on Platte County," senior guard Cody Mohan said.
Photo Gallery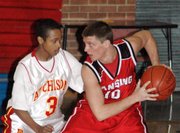 LHS boys fall to Atchison at Tongie Tourney
The Lansing High boys basketball team dropped a 64-58 decision to fourth-ranked Atchison on Tuesday afternoon in the first round of the Tonganoxie Invitational Tournament.
The Lions made sure the Redmen (8-2) didn't come close to reaching the century mark. In fact, the Lions dictated the pace of the game and prevented it from turning into a sprint. They slowed the tempo, stayed within their offense, created good shots and played tough defense.
"We can be disappointed with the loss, but we can't be disappointed with the way we played," LHS coach Don Allen said. "Those guys understand that's the kind of effort it's going to take, but it's nice to see us rise up to the occasion, so to speak. We didn't come up and win, but we competed extremely well and I'm really proud of them."
Against the Redmen, the Lions' defense was solid. Their offense clicked - they shot better than 50 percent for the first time all year. They made smart passes and found open teammates. They won almost every loose ball and have the floor burns to prove it.
The challenge now is for them to replicate Tuesday's effort every game for the rest of the season. That boils down to individual accountability.
"Our problem used to be that everybody would start yelling at each other," Mohan said. "But tonight, if something happened, somebody would always speak up and say to stay within ourselves, stay together, keep the team together."
If Lansing turns in a repeat performance today against Eudora, it could find itself in the fifth-place game with a quality victory under its belt. Still, beating the Cardinals is no guarantee. Neither is Saturday's game, which will be against one of two Kaw Valley League foes, Tonganoxie or Immaculata.
"We've still got two games we're going to have to play in here," Allen said. " We're going to have our hands full with Eudora. There's no easy outs around here. We've got two big games in this tournament that we want to win. We're going to have to show up Thursday with the same effort and same focus to compete with Eudora because they are always a strong, aggressive squad and they'll be ready to play."
A Lansing-Tongie fifth-place matchup would be a rematch of last year's game. LHS won in overtime, 49-46.