Police sergeant at home on streets
Police Sgt. Fred Grenier is back patrolling the streets. He's back in Lansing. And he couldn't be happier.
Grenier has been on the Lansing Police force since February 2005. A onetime reserve officer in Lansing, he returned to the Lansing Police Department after spending 10 years with the Leavenworth County Sheriff's Office.
No offense to his former employer, but Grenier says he's much more satisfied in his new post.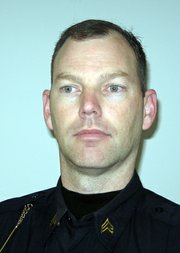 "The grass is just greener with the administration here," he said.
He said his last four years with the Sheriff's Office was as a supervisor in the Leavenworth County Jail, "which was not my main focus of law enforcement."
The desire to be back on the street was alluring to Grenier, and the position in Lansing afforded him that opportunity.
Since joining the force here 11 months ago, Grenier has become a certified drug recognition expert.
"One of my main focuses of law enforcement is removing drunk drivers and impaired drivers from the road. A drug recognition expert is an officer that's been trained to recognize when people are under the influence of drugs and impaired from operating a vehicle safely," he explained.
To become certified, he underwent at total of three weeks of initial training through the Kansas Highway Patrol. In-service training must be completed every two years to maintain the certification. Plus, he's undertaking efforts to become a drug recognition expert trainer.
The certification is recognized by law enforcement agencies nationwide.
Grenier said there was nothing in particular that caused his fight against drunk drivers, but rather it was an accumulation of his experiences, happening upon accident upon accident involving alcohol or drugs.
"If people were sober," he said, "there'd be a lot safer roads."
Grenier said that since he gained certification, he hadn't necessarily made more alcohol-related arrests, but he has made more arrests for people under the influence of drugs. The training he's undergone, gives him expert witness credibility if those cases reach court.
He's also assisted area police departments with his expertise.
While Grenier says he prefers traffic enforcement and accident investigations, he's not a one-dimensional officer.
Last summer on patrol, he interrupted a car burglary and recovered about $1,500 in merchandise.
"That was a pretty good feeling," he said.
It's just such feelings of accomplishment that make being a police officer a rewarding vocation, he said.
"There are so many good things about the job," he said. "Just knowing I'm making a difference and making the community safe is a great feeling. It's really self-rewarding."
Police Chief Steve Wayman called Grenier "a fantastic officer."
"He's really a go-to type of officer. He's solid, and he brings a lot to this department as far as his knowledge of law enforcement and other things," said Wayman, noting Grenier was his first hire when he became chief last year. "He's a positive influence. What he brings to the department has been beneficial to both citizens of the community and members of the department."
Grenier and his wife, Jennifer, are parents of a 13-year-old daughter and two sons, ages 5 and 3.