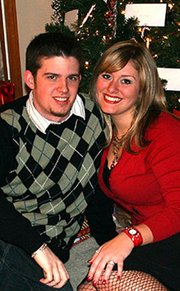 Judith Augustine, Kansas City, Kan., James L. Wisler, Lawrence, and the late Shelah Wisler, announce the engagement of their daughter, Marie-Teresa "Tess" Wisler, Lawrence, to Robert Ryan Keane, Leavenworth, son of Robert E. and Maryann Keane, Lansing.
The bride-to-be is a 2002 graduate of Free State High School in Lawrence. She is a legal secretary for Wisler Law Offices and a legal researcher for Thomson West.
The future groom is a 2000 graduate of Leavenworth High School. He is sales manager for Daycom Inc.
The couple plan an Oct. 14, 2006, wedding at St. John the Evangelist Church in Lawrence.