Lions get back on track with victory against Rams
Lansing boys fall to Eudora in overtime
Tonganoxie — Now that's more like it.
There wasn't anything flashy about the Lansing High girls basketball team's 65-47 victory against Pleasant Ridge on Thursday at the Tonganoxie Invitational Tournament, but that was just fine with LHS coach Keith Andrews. He saw everything he wanted to see.
"Tonight we saw some things we didn't see Monday," Andrews said. 'We saw smiles. They were mentally in the game a little better. We saw some enthusiasm. We saw some high-fives, and that's good."
Those were the qualities Lansing possessed during its 22-point victory Friday night at Bonner Springs but that it lacked during its lackluster effort Monday in an 18-point loss to Silver Lake.
"If the Bonner game was a 10 and the Silver Lake was a zero, we're at about 5.5 or 6 right now," Andrews said after the win against Pleasant Ridge. "We're aiming, not necessarily for a 10 every night, but a seven, eight, or nine. The bottom line is we're 1-0 tonight. We got the win, and that's great."
Photo Gallery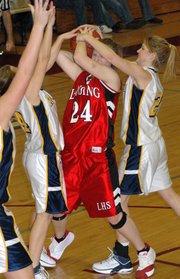 LHS girls pound Pleasant Ridge, advance to fifth-place game
The Lansing High girls basketball team beat Pleasant Ridge, 65-47, on Thursday and advanced to the fifth-place game of the Tonganoxie Invitational Tournament.
The Lions (6-4) won because they returned to the fundamentals that helped them win games earlier in the season. They were patient on offense. They took care of the ball. They played an aggressive trapping defense. They hustled for loose balls. They received solid bench support.
The Lions showed poise and composure throughout the first quarter as they patiently looked for good shots. The problem was they struggled to knock down those shots. The result was a 7-4 deficit after four minutes. The deficit didn't last long, though. Senior Nichole Twitchel scored back-to-back buckets, senior Rachel Darrow sank a free throw and sophomore Katie Nietzke buried a three-pointer that gave them a 12-9 lead. Senior Amanda Radovich scored on a put-back at the buzzer that stretched the lead to five.
LHS continued to attack in the second quarter and it gradually built momentum as shots continued began to fall. Radovich scored on a put-back. Twitchel sank a floater. Morgan Chiles made a layup and hit a free throw. Twitchel knocked down a baseline jumper. Darrow scored on a put-back. Then Nietzke bombed in another trey. All of that offense equated to a 28-19 lead at intermission, but the lead could have been greater if Lansing had shot better than 32 percent (12-for-37).
"We missed a bunch of easy shots," Andrews said. "In the first half it could have been a 20-point lead if we'd made some of the easy shots."
Those easy shots fell in the second half. Lansing hit three of its first four shots in the second half. A three-pointer by Twitchel increased the lead to 38-21. LHS eventually led by as many as 19 points before coasting to the 65-47 victory.
Pleasant Ridge's Ashley Meinert led all scorers with 18 points. Twitchel led Lansing with 17 points on seven of 14 shooting. Darrow scored 16, Radovich added 12, Nietzke had six, Chiles scored five, Amanda Darrow had three and Elizabeth Cristiano, Brittney Lang and Christine Cordes chipped in two apiece.
Lansing next plays at 10 a.m. Saturday in the fifth-place game against Immaculata. IMAC (6-3) beat Atchison, 53-30, on Thursday evening in the other consolation semifinal.
EUDORA 53, LANSING BOYS 48, OVERTIME
The snake-bitten streak continues for the Lansing High boys basketball team.
Two days after taking Class 4A's No. 4 ranked team to the wire before losing by six, Lansing went to the wire and beyond with Eudora before falling in overtime, 53-48.
Just like Tuesday against Atchison, Lansing had plenty of chances to put away Eudora. Each time they failed to capitalize. As a result, LHS dropped its fourth game by six or fewer points this season.
"I still think we've got some good games in us," LHS coach Don Allen said. "It's one of those deals where, until we finish a few, we're going to be looking over our shoulders instead of looking ahead. We're kind of looking for things to happen to us instead of making things happen for us. The only thing that's going to take care of that is winning a couple basketball games."
The Lions (3-7) looked like they were on their way to an easy victory when they held the Cardinals scoreless for the first 5:49. The Lions even held a 10-4 lead with one minute left in the quarter thanks to eight points from Jeff Slater and two more from David Kern. A three-pointer by Mark Abel trimmed the lead to 10-7 after the first quarter.
A three-point play by Matthew Abel and a fallaway jumper by Mike Ortega gave Eudora a 12-10 lead, but Slater tied the game with a pair of free throws. A free throw by Kern gave LHS a 13-12 lead, but it didn't last long. A three-point play by Rodney Spillman gave EHS the lead again. That lead grew to 23-17 by halftime.
Lansing's halftime deficit was the result of its typical problem this season - poor shooting. It made just seven of 19 shots in the first half. Six of the seven came within five feet.
Photo Gallery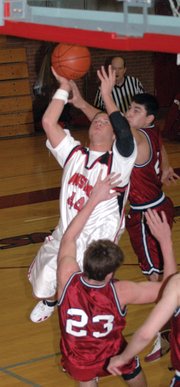 LHS boys fall to Eudora in overtime
The Lansing High boys basketball team lost to Eudora in overtime in the second round of the Tonganoxie Invitational Tournament.
"We had plenty of opportunities to hit open shots, and we couldn't knock them down," Allen said. "We hit three or four of those shots in the first half and that changes the complexion of that half. If we hit a couple more, it changes the game."
The Lions buckled down defensively in the third quarter, and they even found a rhythm on offense. They made their first four shots of the half - a three-point play by Cody Mohan, two lay-ins by Kern and a layup by Slater. Still a pair of three-pointers by Mark Abel and another by Matthew Abel kept the Cardinals ahead by six after three quarters.
Lansing wasn't content to just let another close game slip away. Kern stepped up in the fourth quarter and began attacking the basket. The strategy worked. After a pair of free throws by Austin Reynolds to begin the quarter, Kern scored on back-to-back pullup jumpers. Then Slater converted a three-point play. Suddenly Lansing's six-point deficit was a 39-37 lead with 4:54 left in regulation. Mark Abel put Eudora back on top with his fourth three-pointer of the game.
Eudora (7-3) stretched its lead to three points, but Kern scored on back-to-back possessions and sent the game to overtime tied 45-45.
Four minutes of overtime gave Lansing four extra minutes to think about playing a close game. That eventually proved to be the breaking point.
The Lions ran 2 minutes, 26 seconds off the clock on their first possession and capped it with a three-point play by Slater. That looked like it would be enough momentum to seal the victory.
It wasn't. Guy Kirby Montgomery answered with a three-point play of his own at the other end to tie the game at 48-48. After a Lansing turnover, Spillman sank a free throw that put Eudora ahead. The Lions were patient on their ensuing possession and Chris Wagner eventually got an open look at a three-pointer. It rimmed out. Mark Abel grabbed the rebound and was fouled. He sank both free throws, picked off Lansing's inbounds pass, was fouled and sank two more free throws to ice the game.
Lansing actually had its second best shooting effort of the season as it sank 19 of 40 shots (47.5 percent). Almost all of the made shots were from within a few feet of the basket, though. The Lions were 0-for-8 from beyond the arc.
Mark Abel led Eudora with 18 points. Slater led Lansing with a game-high 22 points on nine of 13 shooting. Kern added 17 points on seven of 10 shooting. Mohan scored three, and Wagner, Reynolds and Javen Kelly chipped in two apiece.
The Lions will close out the Tonganoxie Invitational Tournament in the seventh-place game at 2:30 p.m. Saturday against Tongie at Tonganoxie Junior High. It will be the second time the teams have played this year. LHS won the earlier matchup, 48-40, on Jan. 3 at Lansing High.
Although the Lions would rather be playing for fifth than seventh place, Allen said his players wouldn't have any trouble getting fired up to play again.
"As far as getting amped up for Saturday, heck, it's Tongie," Allen said. "It shouldn't take any more than that to get us ready to play again."