LHS

girls down Immac in

OT
Lansing boys snap four-game skid with win against Tonganoxie
Tonganoxie — It took a few quarters, but the Lansing High girls finally rediscovered their ability to be a dominant basketball team.
A gas leak delayed the start of the game by 30 minutes, and then Lansing sleep-walked through two quarters Saturday morning against Immaculata before finally waking up. Once alert, LHS revved its engines, played tougher defense and rallied for a 53-51 overtime victory in the fifth-place game of the Tonganoxie Invitational Tournament.
"We've just got to be tougher. That's the bottom line," LHS coach Keith Andrews said. "If we want to beat good teams, we've got to keep getting tougher, and Immac is a pretty good team right now."
Photo Gallery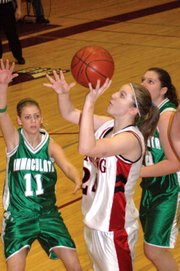 LHS girls top Immac in OT
The Lansing High girls basketball team beat Immaculata in overtime Saturday in the fifth-place game of the Tonganoxie Invitational Tournament.
It was a game that likely wouldn't have needed overtime had Lansing brought as much intensity in the first half as it played with in the second half. On that same note, Immaculata took advantage of its opportunities and played with more focus in the first two quarters.
"We lost it there for a little bit," senior Nichole Twitchel said. "We lost that intensity, that energy. The make-or-breaking point is whether we get pumped up and excited about it."
Immaculata (6-4) raced to a 5-0 lead on a layup by Melanie Kurz and a three-pointer from Jessica Todd. Meanwhile, Lansing didn't score for the first three-minutes of the game. A 17-footer by Twitchel sparked a 10-4 run by LHS, but Becca Fitzgerald rattled home a jumper at the buzzer and gave Immac an 11-10 lead after the first quarter.
Lansing (7-4 overall, 4-1 Kaw Valley League) seemed to build momentum in the second quarter as it took a 14-11 lead on a floater by Twitchel and a lay-in by Amanda Radovich with 6 minutes, 52 seconds left in the half. Ironically, the momentum shifted fully to Immaculata after that. The Lions didn't score again in the half, and the Raiders went on a 9-0 run to take a 20-14 lead into halftime.
During halftime, Lansing discovered the focus and intensity that it lacked for the first 16 minutes.
"When we went in at halftime we decided that it was time to come out and play like we should," sophomore Katie Nietzke said. "Of course, that's not when the best time is. We should come out like that all the time.
LHS scored the first five points of the third quarter on a three-pointer by Nietzke and another jumper by Twitchel. Immaculata answered back with a 9-0 run to go on top, 29-19, but LHS quickly fought back.
Radovich scored on a put-back, Nietzke drained another three-pointer, Christine Cordes made two steals and sank a free throw and Nietzke bombed in her third trey of the quarter. Suddenly it was 31-28.
A Todd free throw and a jumper by Gina Greenwood pushed the Raiders' lead to 34-28, but Rachel Darrow's three-point play and two free throws from Radovich made it a one-point game after three quarters.
Immac opened the fourth quarter strong and pulled away for a 39-35 lead with 4:45 left, but a three-point play from Radovich, a free throw and jumper from Twitchel and another Radovich bucket gave Lansing a four-point lead with 2:04 to go. The lead wasn't safe, though. Christina Winkelbauer drilled a three-pointer and Greenwood made a steal and layup to give the Raiders a one-point lead with 47 seconds left. Radovich answered with a lay-in at the other end and gave the Lions the lead. A free throw by Todd with 17 seconds left forced overtime.
Lansing showed plenty of poise in the extra stanza, and that proved to be the difference. It went right to Radovich immediately. The 5-foot-11 forward scored on a lay-in with 2:30 left to give LHS the lead. After a layup by Greenwood tied the game, Radovich scored again. A runner by Todd tied the game at 49-49 with 1:07 left, but Twitchel buried a free throw to give Lansing a one-point lead with 41 seconds left.
With the clock ticking down, Immaculata looked like it had taken the lead for good. The Raider fans went wild as Julia Meyer scored on a put-back with 22 seconds left. It appeared to be the final dagger of a non-league slug-fest between two regular KVL rivals.
Then, Nietzke struck again.
The sophomore point guard passed to a teammate and then snuck to the far corner. Just like she'd done three previous times in the game, she fired away from long range for a swish.
Game over.
For Nietzke, it was her second game-winning effort of the year and it conjured up memories of her overtime explosion against Mill Valley on Dec. 16. For Lansing, it was a pivotal victory. LHS came out of the Tongie Tourney last year with a 5-5 record and a two-game losing streak. This year the club is 7-4 and has won two straight. Now it will return to Kaw Valley League action at 6 p.m. Friday at Basehor-Linwood.
Todd and Winkelbauer led Immaculata with 11 points apiece and Greenwood added 10. Radovich led Lansing with 20 points, Twitchel had 15, Nietzke scored 12, Darrow added five and Cordes chipped in one.
LANSING BOYS 56, TONGANOXIE 44
By the end of the third quarter of the Lansing High boys basketball game against Tonganoxie on Saturday afternoon, seven players had at least four fouls apiece.
Perhaps it was the byproduct of some overly enthusiastic officiating? Or maybe, just maybe, it was right-on. After all, this was Lansing-Tongie. When these teams meet on the hardwood, it's always hard-fought.
Fortunately for Lansing, the only stat that mattered during the seventh-place game of the Tonganoxie Invitational Tournament was the 56-44 final score in its favor. LHS upped its record to 4-7 with the victory and snapped a four-game losing skid.
Photo Gallery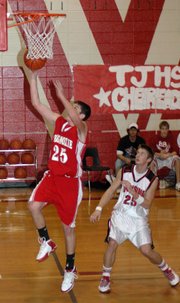 Lansing boys edge Tonganoxie for seventh place
The Lansing High boys basketball team beat Tonganoxie, 56-44, on Saturday during the seventh-place game of the Tonganoxie Invitational Tournament.
"It's Tongie-Lansing. It's a bloodbath," LHS coach Don Allen said. We just hit a few more shots than they did. But this is a big one for us."
The victory was big for Lansing for a number of reasons, but mostly because it simply needed to win, period. All four of its losses during its losing skid were close games where it had a chance to win. In fact, Lansing lost its first two games of the tournament by six and five points, respectively.
"We needed to get one," Allen said. "We've lost close ball games and played pretty well, so it was nice for us to come out on top."
Most of Saturday's game turned out to be as close as the previous two. The first half featured three lead changes and five ties. A pair of free throws by senior Austin Reynolds sent the game into halftime tied 24-24.
Both squads had opportunities to seize command early, but constant halts in play because of foul calls and numerous offensive blunders - 12-for-20 free throw shooting and multiple missed layups - kept Lansing from pulling away.
Lansing continued to miss layups and wide-open jump shots during the third quarter before finally finding a rhythm on offense. A pair of free throws from senior Matt Warner, a 15-foot jumper by Cody Mohan and a three-point play by Jeff Slater stretched the lead to double-digits by the end of the quarter. Warner's three-pointer at the start of the fourth quarter put the game away for good.
"You can't miss double-digit breakaway layups in high school. We got lucky today," Allen said, adding that "we executed fairly well the last couple minutes of the ball game."
Jordan Herron led Tonganoxie with 11 points. Jeff Hughes and Zeb Kissinger added 10 apiece. Slater led Lansing with a game-high 19 points on five-for-12 shooting. Mohan and David Kern scored 10 points apiece, Warner had nine, Chris Wagner added five and Reynolds chipped in three.
Lansing next plays at 7:30 p.m. Friday at Basehor-Linwood.