LHS

wrestlers dominate Holton Invitational
Two days after it dominated Hiawatha, 57-18, and Silver Lake, 48-29, in a double-dual, the Lansing High wrestling team headed back out on the road to the Gerald Sadowski Holton Invitational.
The final result was the same as every other LHS wrestling competition this season: a victory.
Lansing, the No. 1 ranked team in Kansas Class 5A, won the tournament with 263.5 points. Topeka Seaman was second with 174 and Labette County placed third with 148.5. Other teams competing were Wichita Southeast, Holton, Perry-Lecompton, Tonganoxie, Rock Creek, Wichita East, Pleasant Ridge, Osawatomie and Mission Valley.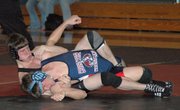 The Lions used an injury-depleted lineup - Chance Thackston (119 pounds), Kyle Grape (152) and Brad Terron (275) were unable to compete - but it didn't matter. They lived up to the hype of their state ranking by dominating the tournament field.
Sophomore Dennis Wood (103), junior Kyle Buehler (135), senior Sean Flynn (140), senior Jeff Terrill (145), senior Dennis Kessler (171) and senior Logan Ryan (215) all went undefeated on the day and won their respective weight classes. Three other Lions - junior Casey Caton (152), senior Lance Fink (160) and senior Jordan Pratt (171) - all placed second. Sophomore Nick Flynn (130) and senior Ryan Civils (189) each placed third.
Scott Keller (fourth at 112) and Brad Zink (sixth at 140) also earned top-six finishes. Other Lansing competitors were Bobby Hamilton (125), Wesley Appleget (125), Joe Wissman (130), Joe Bagby (130), Tyler Bodde (140), Daniel Matthews (152), Tabbitha Carroll (160), Sean Gowdy (189) and Tyler Strouhal (215).
Wood may have had the most intense final match. He squared off with Taylor Dwyer of Labette County and squeaked out an 8-7 decision. In his final match, Buehler won by technical fall against Timothy Adams of Wichita-Southeast. Then Flynn won his championship match with a first-period pin against Travis Adcox of Tonganoxie.
Filling in for state champion Grape at 145, Terrill dominated his matches throughout the day and cruised to the championwhip with a 9-2 decision against Seaman's Travis Kehler. Ryan later edged Perry's Willie Brook, 4-2, in the 215-pound final.
The most intriguing matchup of the day for Lansing came in the championship match at 171 where LHS seniors Kessler and Pratt went head-to-head. Pratt previously occupied Lansing's No. 1 spot at 171 before Kessler earned it from him in early January. Both wrestlers have a wrestle-off each week to see who gets the No. 1 position, so fans got a preview of what those wrestle-offs are like on the main stage. Kessler emerged victorious, 7-1.
Lansing next competes at 9 a.m. Saturday at the Baldwin Invitational.