City sets building record
102 building permits for single-family homes issued in 2005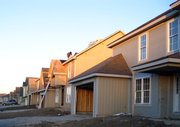 Anyone doubting whether Lansing is continuing to grow need only look to figures compiled for 2005 by the Lansing Community Development Department.
For the year, the department issued building permits for a record 102 new single-family houses, up 82 percent from the 56 permits issued in 2004.
"One hundred and two permits for single-family homes is the most since I've been here," said John Jacobson, who is in his ninth year as the city's Community Development superintendent. "And I'm not aware of any year before then where we even approached that."
Total valuation of residential and commercial construction and remodeling for which permits were issued was nearly $15.9 million in 2005, not including property costs - up 73 percent from a year earlier. It's also a record, Jacobson said.
Houses are going up from the Wyndham Hill to Fawn Valley South to Woodland Hills to Rock Creek Estates subdivisions. Commercial projects are springing up along Main Street.
Mike Reilly, of Reilly & Sons-Coldwell Banker Real Estate, said residential and commercial construction activity fed off each other.
"The two go hand-in-hand," said Reilly, whose firm built 58 new homes with an estimated total value of $16 million in Lansing in 2005.
Hotels, office parks, shops and restaurants, he said, are looking for rooftops. Those amenities, in turn, make a community more attractive for people looking to buy a home.
"They feed off each other," Reilly said. "Activity breeds activity."
Reilly said the Lansing-Leavenworth area continues to be noticed because of two primary reasons: its proximity to the Kansas City metropolitan area and the lower prices for land and homes.
"We're 15 to 20 percent cheaper from a housing standpoint" than most of the surrounding metropolitan counties, he said, "so we are a good value."
Adding to Lansing's allure, he said, was the city's small-town atmosphere and passage in 2005 of a $23 million bond referendum that includes construction of a new elementary school on West Mary Street.
Steve Osman, a partner in the Carriage Hills Plaza shopping center, which is going up on Express Drive, attributed the construction growth in Lansing to several factors.
"Number one," Osman said, "is Lansing's favorable location in relation to the things happening in western Wyandotte County, and, number two, the receptive attitude to encourage growth that emanates from City Hall."
In his dealings in Lansing, Osman said, city officials have been nothing but helpful in bringing the development about.
"From a developer's standpoint, you sense that in their excitement level and they want to make it occur," he said. "That's great for a developer."
And don't look for the pace to slow anytime soon.
Reilly's firm continues work on Wyndham Hill, where the second phase is finishing and work on the third phase is starting. About 52 new homes are slated in the final stage there.
Reilly also noted that Rock Creek Estates is into its second phase of development. Fifty new homes are planned, with about half of them already under construction. In all, five phases are planned down the road.
While completion of Rock Creek's final phases will depend on home sales, Reilly remains confident.
"We're very bullish on this area," he said.