If there was a silver lining to be found in the Lansing High girls basketball team's uninspired effort against Silver Lake in the first round of the Tonganoxie Invitational Tournament, it was that LHS learned how not to play.
In many ways, second-year coach Keith Andrews said, the lesson may turn out to be a positive if the Lions are able to grow from the loss. They spent Thursday and Saturday proving they'd learned their lesson as they romped past Pleasant Ridge, 65-47, and then pulled out a 53-51 victory against Immaculata in overtime in the fifth-place game.
The wins were great, Andrews said, but he said winning a close game was a real character test.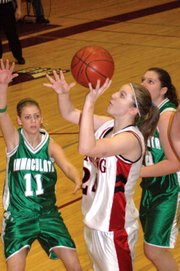 "A close game like that allows them to grow, and it's better to win ugly than lose ugly," he said.
With the exception of the first-round game against eventual champion Silver Lake, Lansing had a solid tournament. It won two games. Senior Amanda Radovich averaged 16 points per game in the tournament and earned All-Tournament Team honors. Senior Nichole Twitchel caught fire on both ends of the court. Sophomore Katie Nietzke found her shot from beyond the arc and nailed a game-winning three-pointer against Immaculata. Sophomore Christine Cordes also had a strong tournament defensively.
In addition to making individual improvements, the Lions took some serious strides, too. For one, they improved their record to 7-4 and quickly are closing in on assuring themselves of a winning season. Second, they rediscovered what it takes for them to focus each game.
"The make-or-breaking point is whether we get pumped up and excited about it," Twitchel said.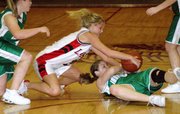 The Lions said they had trouble focusing during the tournament for a variety of reasons. They didn't have school the day of the Silver Lake game, so their game-day routine was thrown off. Then, they struggled in the first half Saturday after the game was delayed because of a gas leak.
Lansing should have more time to focus and prepare for its next game. It will travel to Basehor for a 6 p.m. Friday game against Basehor-Linwood. LHS won an earlier meeting, 41-38, on Dec. 13, and it will have a full week to prepare for the rematch.
"We won't be as tired," Nietzke said. "We played so many games in the last week, and it starts to wear on you when you have to practice every day. Now we can just focus on Basehor. We already know what we need to do to beat them like we did last time. We just need to come out with a full game of intensity."