Brothers finish 1-2 at Pinewood Derby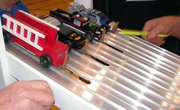 Although years away from getting behind the wheel of an actual car, more than 70 Cub Scouts, from ages 6 to 11 years old, gathered this past weekend to race their pinewood car creations in the Cub Scouts' Annual Pinewood Derby.
The derby's theme this year was emergency vehicles. Cub Master Karl Gibson said that the 71 participants were given a block of wood, four nails and four wheels before Christmas to construct the cars, with their parent's help.
The derby took place Saturday evening, Jan. 21, at Lansing Middle School.
After dozens of heats, one Scout emerged with the fastest car. Adam Goecke defeated his brother, Trent, to win the Pack 3165 championship. Jonathan Zappa was the overall third-place finisher.
Adam, 6, got to the championship heats by placing first in Den No. 5. He, like the other Scouts, had help from his father, Sean, to construct his car.
"It took lots of time to make," Sean Goecke said. "We tried to make it aerodynamic and reduce the friction."
After the race, Adam was pleased with his win.
"I really feel really great," he said simply with pride.
The challenge brought creative designs, from police cars, ambulances, fire trucks and highway patrol cars to nontraditional emergency vehicles, such as the Batmobile.
Race brackets were organized by Cub Scout Dens, with the average den having around 8-10 members of similar age. Four cars raced per heat, and the race results were recorded by a computer and then projected on a screen for the audience's easy viewing.
Several volunteers from American Legion Post 411 and the Lansing Lions Club helped place the cars at the starting line and remove them at the finish line to ensure the races ran smoothly and quickly.
Jonathan Zappa, 7, placed first in Den No. 3 with a police car that stood out with working battery-operated red and blue flashing lights. He chose a police car design, he said, because he likes policemen for helping the state and the country.
Winners of the den heats were awarded medals for their victories, as were the second- and third-place winners, and raced in the finals with the other den winners.
The Goecke brothers and Zappa received trophies for their top finishes.
Here's the final results:
Den 4 Tigers
1st Place: Noah Souser
2nd Place: Laszlo Taborosi
3rd Place: Josh Blanken
Den 5 Tigers
1st Place: Adam Goecke
2nd Place: Tanner Williams
3rd Place: Max Erickson
Den 3 Wolfs
1st Place: Jonathon Zappa
2nd Place: Trent Goecke
3rd Place: Nathan Palmer
Den 6 Wolfs
1st Place: Alexander Burke
2nd Place: Benjamin Brickson
3rd Place: Brian Orkwis
Dens 1 & 2 Bears
1st Place: David Szmed
2nd Place: Devon Wacker
3rd Place: Karl Barkley
Den 10 Bears
1st Place: Cotton Hindman
2nd Place: Michael Mickelboro
3rd Place: Anil Patel
Webelos I Den 7
1st Place: Phillip Clark
2nd Place: Wesley Pippin
3rd Place: Jake Hall
Webelos I Den 9
1st Place: Dante Diaz
2nd Place: Blaze Allen
3rd Place: Joshua Russell
Webelos II Den 8
1st Place: Stephen Szmed
2nd Place: Cody Motley
3rd Place: Drew Goebel
Pack Championship
1st Place: Adam Goecke
2nd Place: Trent Goecke
3rd Place: Jonathan Zappa