City offers new token of appreciation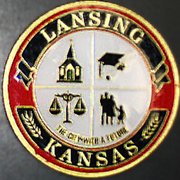 Last year, the city got its official city flag; now it's official Lansing coins.
But numismatics beware: Unless you're a visiting VIP or being recognized by the mayor for your community contributions, it's not likely you'll land one of them.
Outside of giving one to members of the City Council, Mayor Kenneth Bernard has presented just one of the newly minted coins: It happened last week when Lansing resident Ashley Aull was recognized for winning the 2006 Miss Kansas USA title.
"They'll be closely held," the mayor said.
Bernard said he got the idea from other cities that have done away with giving a key to the city in favor of a city coin.
Lansing's coin, about the size of a silver dollar, has the city's official seal in full color on the front. The flip side features the Kansas quarter design: a buffalo and the sunflower.
"It's a very appropriate gift to give out to people who have done something special," Bernard said.
City Administrator Mike Smith said the coins' design was a joint effort of Bernard and Council member Robert Ulin.
"They're something special; a nice token," Smith said.