Driver takes out light pole in crash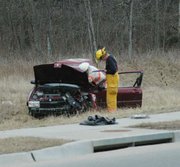 A 16-year-old driver totaled her car and took down a light pole in a one-car accident on West Mary Street.
The accident occurred late Thursday afternoon, about 5 p.m., in the 900 block of West Mary Street. The driver was taken by ambulance to Cushing Hospital in Leavenworth.
Lansing Police Chief Steve Wayman said he didn't know the extent of the victim's injuries, but she was able to talk to emergency workers.
A light pole lay in the street and car parts littered the south side of West Mary, across from land owned by Lansing United Methodist Church, shortly after the crash.
Surveying the scene, Wayman said the driver, who was in the westbound lane, appeared to have lost traction coming around a curve and hit a light pole across the street. Hitting the pole likely spun the vehicle off the road. The car, an Oldsmobile Achieva, also probably rolled at least once, Wayman said.
"Speed was most definitely a leading indicator of the cause of this crash," Wayman said.
For more on this story, check out lansingcurrent.com for updates.