Honors go out to Miss Kansas
USA

, city worker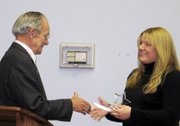 Ashley Aull, who late last year was crowned Miss Kansas USA 2006, says she owes a debt of gratitude to Lansing for her title.
Aull, a 2004 Lansing High School graduate, and her parents, Alex and Melanie Aull, were recognized by Mayor Kenneth Bernard at the Jan. 19 meeting of Lansing City Council.
Also honored at the meeting was Christina Sanderson, the city's Employee of the Quarter.
City Administrator Mike Smith, who said he had known Aull's family for years, introduced her to the council and audience. Smith thanked Aull's parents for their efforts, then turned to the reigning Miss Kansas USA.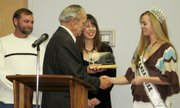 "I wanted to thank you for representing Lansing in such a fine manner," Smith said. "I know it's hard - the things you have to do, the exercises and all the other stuff that goes along with this - but we're very proud of you and we're very proud to say that Ashley Aull is from Lansing, Kansas."
Bernard presented Aull with an official city coin and a trophy that read, "The city of Lansing would like to recognize Ashley Aull for her outstanding accomplishments in being named Miss Kansas USA 2006. Thank you for being a wonderful ambassador for the city."
Aull expressed her gratitude.
"I just want to say thank you to all the businesses and everyone who has supported me. Everyone has been a great help pushing me and moving me on. I couldn't have done it without the support of the city I grew up in, so thank you very much," she said.
Aull, who now attends Johnson County Community College, was crowned Miss Kansas USA 2006 on Nov. 27 in Overland Park.
She's now training for the 2006 Miss USA pageant, an event that takes place over a three-week period in Baltimore and concludes with a live telecast on April 21 on NBC.
"I hope you come back and visit us when you are Miss USA," Bernard said.
Sanderson, administrative assistant in the Parks and Recreation Department, was honored by Bernard and the council in a brief ceremony.
Smith told council members that Sanderson was a key cog in the annual Kids Day Fishing Derby in the spring at Lost 80 Park and Spooky Center in the fall at Lansing Activity Center.
"Bottom line is Christina, whenever we ask her to do something, she takes it, she runs with it and gets the job done very quickly and with very little supervision," Smith said.
With the quarterly award, Sanderson will compete for the city's 2006 Employee of the Year Award.