Rejuvenated Twitchel 'a threat'
In 2005, the Tonganoxie Invitational Tournament was the scene for Nichole Twitchel's breakthrough performances.
Then a junior, Twitchel notched her first two double-digit scoring performances of the season during the tournament. From that point on she became one of Lansing's most consistent scoring threats.
Now a senior, Twitchel again appears to be using the Tonganoxie Invitational as a springboard.
"Nichole is seeing that she's a senior now and she's got to do it," LHS coach Keith Andrews said. "She shoots the ball with confidence and she plays well. I hope this is a turning point for her, and I hope it gets her going 110 percent every time and never looking back."
Twitchel started this season at barely a crawl as she scored just one point in the season-opening loss to Topeka Seaman. In the next game - a 68-29 win against Atchison - she scored five. Some fans wondered what was wrong with her. What had happened to the once-lethal scorer?
"I've been sick a lot," she said of her early struggles. "I missed the whole first week of practice, so it's been a rough season."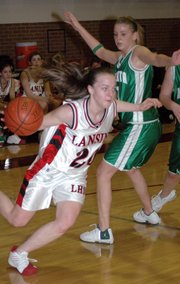 As her health was restored, she eventually found her stroke. She scored 12 points in a victory against Basehor-Linwood and had 10 more in the overtime win at Mill Valley, but in between those outings, she had off days where she'd score just four points.
Last week at the tournament she began to develop some consistency. She scored four points against Silver Lake in a game where everybody struggled, but then she put up a team-high 17 against Pleasant Ridge. Two days later she scored 15 against Immaculata.
Twitchel's improving health has been a factor in her resurgence, but she said her teammates helped her the most.
"I think the team picks everybody up a lot," she said. "Everybody has confidence in everyone, and that helps us play better."
Twitchel's game is built around two strengths: an aggressive drive to the basket, and an uncanny ability to anticipate passes on defense. Sometimes the two go hand-in-hand.
Andrews said few players are as alert defensively as Twitchel. That allows her to get frequent steals and layups.
"She's very aware of where everything is," teammate Katie Nietzke said of Twitchel's radar-like anticipation skills. "She's a very subtle player, and she's always down in her stance. She's never up, flying around like the rest of us. She's always very smart with how she plays defense."
On offense, she is most dangerous when she takes a dribble or two and lofts a running jumper.
"She adds such a threat to our team," Nietzke said. "We all drive, but she drives so hard, and every time she finishes so well. That's her thing."
Given her recent string of strong outings, Twitchel has upped her scoring average from three to almost nine points per game.
"I'm just feeling more confident," she said.