Tournament title is goal for freshman boys
When the Lansing High freshman boys basketball team trailed De Soto, 21-20, at halftime Monday during the first round of the 42nd Annual Lansing Freshman Tournament, LHS coach Bill Pekarek wasn't worried.
He knew it was just a matter of time before the Lions' up-tempo offense caught fire. Sure enough, the third quarter began and the Lions exploded on a 19-3 run. From that point on they were on cruise control.
Lansing 60, De Soto 47.
With the victory, LHS advanced to the semifinals Wednesday night against Basehor-Linwood, which was a 57-48 winner against Patton on Monday. A win there would pit them against either Gardner-Edgerton or Piper at 12:45 p.m. Saturday at Johnsmeyer Gym.
Lansing (5-1) won an earlier meeting with Basehor, 48-36, on Dec. 13 in the season-opener.
"I told them beforehand, we won this tournament when I coached this year's seniors," Pekarek said, noting that his players take pride in wanting to protect their home court.
The Lions found themselves in a dogfight during the first half. Three early turnovers contributed to an 8-4 deficit. They eventually rallied for a 12-11 lead, but they ultimately trailed by two after the first quarter because of a barrage of three-pointers from Wildcat guards Brendon Hudson and Josh Fisher.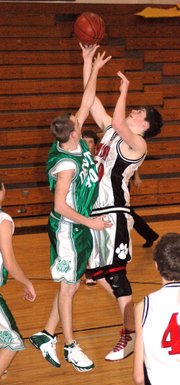 The second quarter proved to be a low-scoring stalemate, too. LHS held De Soto to just five points in the quarter and trailed just 21-20 at halftime.
"At halftime we talked, and we were getting the shot in the middle of the lane, so we just told them to keep getting the ball to the high post," Pekarek said. "
The Lions followed the plan early in the third quarter and it worked to perfection. They found 6-foot-3 forward Ryan Delich and 6-foot-4 forward Cody Rush for basket after basket within about six feet of the rim.
Delich scored eight straight points to start the quarter. Then a steal by Curtis Beall led to a Peter Gibson layup. Then Delich drained an eight-footer, a layup by Beall, a hook shot from Rush and a bank shot from Clayton Hall. Matt Robbins' layup with 2:14 left in the quarter capped the 19-3 run and turned the one-point deficit into a 40-24 lead. The lead remained in double-digits the rest of the game.
"I try to tell them I want to push the ball down the floor," Pekarek said. "If we rebound and get an outlet pass, I want them to look down the floor. I'd rather take a layup than have to set up and run our offense with the defense already ready. I like to force the other team to get back and play defense."
Delich led Lansing with 17 points and Beall joined him in double-digits with 15. Clayton Hall and Robbins had six apiece, Joe Goll had five, Rush and Gibson scored four, Cameron Trowbridge added two and Nicholas Novak chipped in one. Other freshman team members are Kyle Willcott, Metin Depaolis, Eddie Silva, Ezra Carpenter and Hawkins Hall.