Union workers protest outside U.S. Penitentiary
Leavenworth — Dozens of union employees, retired workers and supporters staged two days of picketing outside the U.S. Penitentiary, protesting staff reductions and the treatment of a combat veteran fired last week from the prison.
Kevin Nikes, president of Local 919 of the American Federation of Government Employees, said union members at the penitentiary were upset with staff reductions they say are making conditions unsafe, both for prison workers, inmates and, ultimately, the community outside the prison walls.
The local represents more than 400 prison workers who live in an area that stretches from St. Joseph, Mo., to Lawrence, he said. Most of the members, he said, are predominantly from the Leavenworth-Lansing area.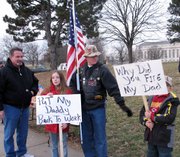 The cuts come on the heels of transformation of the Leavenworth penitentiary late last year from a maximum-security to medium-security prison.
Nikes said about 100 positions were being cut - "As an employee, they won't allow me to tell you specific positions." About 45 jobs already have been pared.
"Quite honestly, we're running less than a skeleton crew inside here at times," Nikes said from the picket line in front of the prison's main entrance. "The frequency of violence is on the rise inside, and we feel it's related to that. You've got much less supervision of the inmates."
He said prison officials want staffing at Leavenworth to be more in line with that of other medium-security prisons, but he said lower staffing levels won't work because Leavenworth's old-style prison configuration is so different from what he called new "cookie-cutter" medium-security prisons.
"The cell houses, the living areas for inmates, are small (in the new prisons). You walk into it, you can see every cell door from standing in one area," he said, noting that's not the case where a cell house stretches down long corridors at Leavenworth.
An incident last week pushed the union past the boiling point: A correctional officer who was within 10 days of his completing his one-year probation period was fired.
The officer, Brandin Raney, is a decorated combat veteran and the son of a longtime union activist at the prison, Nikes said.
Raney was performing a pat search on an inmate, Nikes said, when the inmate "made an aggressive move" and Raney "put him on the floor."
The incident, captured on videotape, was by the book, but prison officials decided to fire Raney nonetheless, Nikes said.
"All this kid did was exactly what he was trained to do and exactly what we still train people to do, and they called him in and terminated him over it," Nikes said.
The firing made two impressions on union leaders: That prison officials were getting back at Raney's father for his past union activities, and the rules that correctional officers have followed for years may no longer apply.
Larry Raney, a past union president, has represented members in grievances against the prison "that have cost them a lot of money," Nikes said.
"We've got to kind of wonder, is this the agency's way to get back at his dad? How do you hurt a person worse than by attacking his family?" Nikes said.
Because Brandin Raney was a probationary employee - all new employees with the Bureau of Prisons serve a one-year probation - there's little the union can do to intervene. Union officials have contacted officials with the Department of Veterans Affairs to determine whether they can intercede on Raney's behalf.
Nikes said Dudley "Duke" Terrill, who became warden at Leavenworth in August, hadn't been responsive to the union's concerns, so the union was hoping it could get some support in the court of public opinion.
It seemed to be working Thursday and Friday. Cars whizzed past the prison honking horns at the protesters with signs that read "Remove Warden, Not Vets" and "Public Safety or Budget Cuts?"
"We hope that if there's enough people that express concern, maybe they would change their minds and reconsider and readdress some of these issues," Nikes said.
Jack Fox, executive assistant and a spokesman for the penitentiary, did not return phone calls for comment.