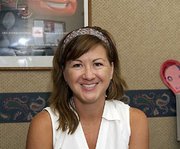 Cori Lee and her husband, Mark, are unlike many homeowners in that they built their home with their own hands.
But Cori Lee is also unlike many builders in that she worked on her house while taking classes toward a degree, maintaining a fulltime job and being pregnant with their daughter Madison. She and her husband put in late nights to finish the house of their dreams, which they decided to build after finding themselves in ownership of a piece of land near Basehor.
"It was definitely nights and weekends for about 10 months of craziness," said Lee, an insurance agent with State Farm in Lansing. "I never stopped the whole time I was pregnant."
Lee remembers that the hardest part for her was more psychological than physical.
"Just the anticipation of it. Knowing that someday this will be finished - but you can't touch it yet," she said.
When they finally completed their house, they were able to settle into a home that was all their own.
"We built more house than we could have if we paid someone to do it," Lee said. "It worked out a little too well."
Lee's daughter Madison is living the fantasy home dream to its fullest. She has her sights set on having horses of her own, and Cori Lee shares some of the enthusiasm her daughter exhibits - and some caveats she doesn't.
"I'd love to have horses too but I'm not just going to get them," Lee said. "I think in the long term it's a good thing for her to be involved with.
"My daughter has a dream of having horses, and with us being out in the country, that's a little more likely."
Name: Cori Lee
Address: 22400 171st St., Basehor
Occupation: Insurance agent
Graduate of: Kansas City Kansas Community College; Baker University
Family: Mark, husband; Madison, 4, daughter
How long have you lived in Lansing and what brought you here? I'm a Lansing native
What do you like most about Lansing? It's just so familiar, with the people you see and the friends and the family.
What do you do for fun? We really like to work in our yard, we're doing landscaping. Travel, decorate.
What would surprise people about you? Most of the time when I tell people we built our own house from the ground up they're like, 'Really?'
What's the best advice you've ever received? Not to give up on things you think you can achieve, because truly if you work hard at it, you can accomplish it.