Retirement invites reflection for two of district's most experienced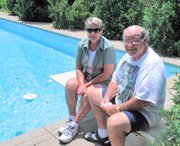 With a combined 74 years of experience teaching in the Lansing school district, George and Sue Kersten have a lot on which to reflect from their careers.
Now they have the time to do it: They both retired this year. And though retirement promises a big change for the couple, so far, it's business as usual.
"It's just summer for us," Sue Kersten said. "We haven't figured out what we're going to do next."
George Kersten began teaching science at Lansing High School around 1967. Sue Kersten has taught third grade since around 1971.
They both agree leaving the students behind will be a challenge.
"That's the hard part," Sue Kersten said. "I still think I have something to offer the kids."
"They've kept me young," George Kersten adds.
But the Kerstens agree some aspects of running a classroom will be easy to let go and contributed to their decision to retire at the end of the 2005-2006 school year.
"I'm not going to miss the routines you have," George Kersten said, citing the increasing amount of documentation required from teachers and ongoing shift of expectations toward test-oriented results. "We don't have the time to teach the kids (anymore)."
Though both teachers give high marks to Lansing's teachers and students, shifts of emphasis at state and federal levels have left little time to teach certain fundamentals, they said.
The trend George Kersten has seen through the years is a decline in the perceived value of teaching skills used in everyday life.
"I've seen seniors graduate not knowing how to put a plant in the ground or do basic woodworking," George Kersten said.
Though he believes the shift has occurred over a long period and the causes are varied, the testing requirements most recently implemented by federal and state mandates necessitate more and more time be spent in preparation for standardized tests.
Sue Kersten has felt the trend even in her third-grade class. While she used to be able to arrange more field trips and fun in-class learning activities, even elementary students are being held to a rigorous testing standard.
The Kerstens perceptions of the district, however, have less to do with condemnation as they do change. They both agree they are retiring from a top-notch district with committed faculty and excellent students.
"Sometimes I still question whether or not it was the right decision," she said. "I have a lot of good memories."
The only advice that Sue Kersten would pass on to Lansing teachers is her hope they would "continue to keep their expectations high."
In their combined 74 years, the Kerstens agree those high expectations have been the secret to the success of Lansing school district and the first-rate students it continues to produce.
"While our standards are high in Lansing, we're going to keep our district high," George Kersten said.
As for their own standards, the Kerstens are now searching for new outlets for their work ethic.
George Kersten has plans to replace a deck on his house and to garden.
Sue Kersten isn't sure what activities will fill her hours once the school year begins, but she suspects she'll offer her services as a substitute teacher. One way or another, she said, she'll stay committed to excellence.
"I can't imagine going from working for 35 years to going to doing nothing." Sue Kersten said. "I hope to still be involved in education somehow."