Volatile market binds families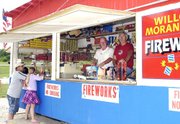 They may not celebrate the Fourth of July, but don't call the Willcott family unpatriotic.
While other families carry on the tradition by lighting fireworks on Independence Day, many of the Willcott, Moran and Beall families - and several other groups around town - carry on a different tradition: selling fireworks. And though other families may not remember the stand erected each year in the area by the team of families, Debbie Beall-Willcott can't remember a year without it.
"I don't ever really remember celebrating the Fourth of July," said Beall-Willcott. "That's the one downfall."
The Willcott family began selling fireworks out of their home garage in Leavenworth many decades ago. Through the years, the family's stand became so well-known that when the Willcotts eventually sold their house, it was with one special caveat.
"My dad said, 'Well, if we can still sell fireworks out of the garage, we'll sell you the house,'" Beall-Willcott said.
From that point forth, a fireworks alliance was forged between the Willcott and Moran families, who have since moved their stand near Petro Deli in Lansing. Because of city ordinances, however, a trailer has replaced the tent from which they used to sell. It's just one of many ways that they've seen the fireworks business change through the years.
Danny Willcott remembers how different fireworks sales were 30 years ago.
"Back in the bicentennial in 1976, things were wide open back then. You could sell bottle rockets back then : you could sell M-80s," Willcott said. "The whole fireworks environment has changed. It's more regulated."
But despite stricter regulations, business is still bumper for the Willcott, Moran and Beall stand. They've got selling fireworks down to a science, and sell their entire inventory almost every year.
But where homegrown stands like Willcott's rely on decades of experience, another Lansing stand utilizes corporate power to find the explosive edge.
Eric Reifschneider, operates a stand in the parking lot of the Overlook Restaurant for Ka-Boomers Fireworks, a Nebraska-based fireworks company with more than 150 outlets across the Midwest.
Like a franchise, the company selects families who apply to manage a fireworks stand that the company delivers around a week before the Fourth each year. For Reifschneider, it's a no-risk opportunity.
"I really like the way it's set up," he said. "What we don't sell we box up and send back to them.
"It's good money, but it's hard work."
Reifschneider has operated the stand for several years, and estimated that in 2005 his stand sold more than $25,000 in fireworks, from which he and the employees he hires each get a cut. With Ka-Boomers making it so easy, Reifschneider relies on running a few ads and one simple strategy.
"You put them out and they sell," he said.
The stands operated by both Reifschneider and the Willcott, Moran and Beall families have the luxury of being able to return unsold fireworks to their distributors, but that's not always a possibility for some operators.
The only other high-traffic stand in town, which sets up in front of Dasher Garage and serves as a fundraiser for the Fraternal Order of Police, has a different strategy to ensure that everything gets sold.
"We usually do fairly decent business so we get a ton of stuff," said Sid Brown, a member of the FOP who helped work the stand.
He said that despite the city allowing the sale of fireworks through July 5, by the end of the day on the Fourth of July, the FOP stand usually cuts deals to liquidate any remaining inventory. It's a win-win strategy, Brown said.
After the big rush on Independence Day, waiting around another day for a few extra sales would be anti-climactic.
"The Fourth is just ridiculous," Brown said. "Nobody wants to be sitting around on the fifth."