Back on board
Former member gets nod to rejoin school board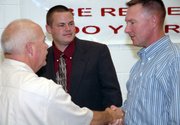 A former member is returning to the Lansing School Board.
The board on Monday night voted unanimously to select Dr. Richard Whitlow to fill the unexpired term of Karalin Alsdurf, who resigned last month after moving out of the district. The seat will be up for re-election in April 2007.
Whitlow, whose previous two years of service on the board ended in 2003, was selected from a field of four candidates. Others seeking to fill the vacancy were Stuart Lyon, who served on the board from 2001-2005; Joe Walden, a retired colonel; and Brian Duncan, an officer with the Lansing Police Department.
Each of the candidates submitted to the board answers to a questionnaire and stood before the board Monday night to answer questions.
Whitlow, who practices internal medicine, noted his past board service and visits to the district classrooms, where he assists with science and math projects.
For more on Whitlow's selection and other news from Monday's board meeting, see Thursday's Current.