Always with children in mind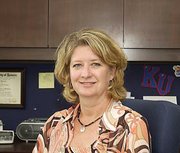 For Carolyn Jaqua, few things are as important as her children.
Because of that, her position in Lansing school district provides a perfect balance.
"Education is a great field because you can have summers off to spend with your family," Jaqua said. "I'm a mom first."
As as an administrative assistant to the director of maintenance/capital improvement, Jaqua additionally gets to be involved with projects that benefit her children as well as all of the children in Lansing schools.
"The past two bond issues I was pretty heavily involved," said Jaqua, adding that one of the major parts of her job is doing her best to facilitate the construction of the new elementary school and the high school auditorium.
Jaqua is particularly looking forward to the new auditorium, which she hopes will provide a better place for students' musical and theatrical performances. But in her mind, she also sees it as an opportunity for all of Lansing.
"It's a good asset for the community," she said. "If you're trying to grow a community ... one of the biggest reasons people move to a community is for their schools."
Jaqua began her career with Lansing school district as a substitute teacher, and later moved to a position as a secretary at Lansing Intermediate School.
Though her new job responsibilities won't bring her into as much contact with the students, she won't forget who she's working for.
"I love working with people and kids," Jaqua confesses. "I don't know if I'm doing that here but in the long run it's going to benefit the kids."
Name: Carolyn Jaqua
Address: 25620 171st St., Leavenworth
Occupation: Administrative assistant to the director of maintenance/capital improvement for Lansing school district
Graduate of:University of Kansas
Family: Jeff, husband; Lauren, 13, daughter; Ryan, 8 1/2, son
How long have you lived in Lansing and what brought you here? Moved here with my husband
What do you like most about Lansing? Its close proximity to Kansas City
What do you do for fun? Attend all of my kids' sporting events, attend live theater, go to KU basketball games and sew.
What would surprise people about you? I marched
What's the best advice you've ever received? Always just do your best and keep smiling - be friendly
What organizations or clubs do you belong to? Tonganoxie Christian Church, Parent Teacher Association, Booster Club and Site Council