County commission rejects plan to hire administrator
Leavenworth County Commissioners on Thursday rejected a proposal to create a county administrator position.
Commissioners voted 2-1 against the plan, which Commissioner Clyde Graeber said would ensure county government would run more effeciently and effectively.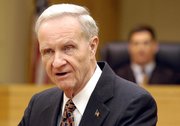 Commissioner Don Navinsky, the lone commissioner whose term is up next year and who is not seeking re-election, said he regretted that he had to vote against Graeber's plan. Navinsky said he believes the county needs an admininstrator. But he said that when he ran for office four years ago he pledged he would not vote to create an administrator position unless the public -- in an election -- mandated the move. That has not happened.
Commissioner Dean Oroke said he didn't feel comfortable voting for a proposal -- without first crafting a job description and setting a salary range. And he noted all that the commission has accomplished during the past two years, particularly in handling county finances.
Graeber said that he thought commissioners had done a fine job of running county government. But he said the county is facing many major challenges and an administrator would help commissioners successfully face those challenges.
For more on the county administrator issue, see the Thursday, July 20, edition of The Current.