Downtown Leavenworth blaze spurs area firefighters to action
Leavenworth — Area firefighters battled an afternoon blaze in one of downtown Leavenworth's historic buildings Thursday, July 6.
Smoke was reported coming from the building housing Exotic Scentsations, 726 Shawnee St., around 2 p.m. and the initial call indicated that two people were inside the building, a Leavenworth Fire Department official said. After the initial fire crew arrived and removed the people from inside the building, they began fighting what proved to be a stubborn fire.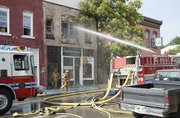 Mike Lingenfelser, chief of operations for Leavenworth Fire Department, said that his crew made "an initial attack" to put out the fire after all individuals were secured from the building, but had troubled locating the source of the blaze.
"The hard part is locating the seat of the fire," Lingenfelser said. "These buildings have been cut up and remodeled so many times.
Firefighters worked from the roof of the building to combat the flames spreading within the structure.
"The fire progressed and we still weren't gaining on it."
Lingenfelser quickly realized that additional help would be needed. He called in assistance from Lansing and Fort Leavenworth fire crews.
Rick Huhn, chief of Leavenworth County Fire District No. 1, said seven firefighters from Lansing responded to the call for assistance. Huhn said he was pleased with the performance of the Lansing crew who helped Leavenworth responders contain the tenacious fire from spreading to adjacent buildings.
"That was our main concern was that it would spread," Huhn said. "You get in those old buildings and they get tough to stop."
The cause of the fire is unknown, as is the extent of the damage to the aging building. As the fire progressed, the second floor collapsed onto the first, Lingenfelser said, which means the building's structural integrity may be compromised.
"We'll have to bring in an engineer to determine whether the building is safe or whether we need to bring it on down," Lingenfelser said.
Donald R. Jackson, Lansing, is listed in county records as the owner of the building; he could not be reached for comment.