Grant loss has alliance scrambling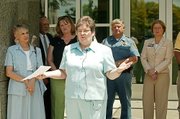 Leavenworth - Kay Andersen keeps going over in her mind why the Alliance Against Family Violence lost a federal grant that provides about a third of the Leavenworth County agency's annual budget.
Andersen, the alliance's executive director, said last week the federal Rural Domestic Violence and Child Victimization Fund had notified the alliance its $250,000 annual grant would not be renewed.
"We got no feedback in two years that we weren't doing everything they wanted us to do, and we're the same community we were two years ago when we met all their criteria," she said. "I don't know."
At a news conference Friday, July 7, outside the Leavenworth County Justice Center, surrounded by a phalanx of law enforcement officials from Lansing, Leavenworth and Leavenworth County, area politicians, candidates and other supporters, Andersen explained what the loss of the grant money would mean.
"Over the past several years, the Alliance Against Family Violence has depended upon this money to support our victim-advocacy program, our case-management program, our child therapy-play therapy program, our community outreach initiatives and our police response advocates," she said. "All of these services, these are not a luxury - these are a necessity for the sake of families and for the quality of life in Leavenworth County."
Lee Doehring, Leavenworth's chief of police, said the alliance provided a critical service in the county. He was especially complimentary of the police response advocates, who come to the scene of domestic violence incidents and offer emotional and practical assistance to victims. The advocates, he said, help victims clearly see alternatives to either repair or terminate their soured relationship.
"It's critical at the time that this domestic violence is going on that this intervention take place," Doehring said.
The importance of the advocates' work can't be discounted, he said.
"I can say unequivocally that, through the intervention of these people and helping victims find other alternatives and resources available to them, we have prevented aggravated batteries, rapes and homicides," he said.
Andersen said that without an outpouring of support from the public or some other immediate financial boost, loss of the grant would mean the layoff of eight of the alliance's 15 staffers and a cut in each of its programs.
"We are looking desperately for funding now. We are trying to piecemeal as much as we can together to try to keep as many of the services going as possible. But we're talking about eight staff positions, we're talking about four major programs for this community," she said.
Since news of the grant denial was received, Andersen said the alliance had submitted applications for several private grants, including from "Oprah's Angels," the foundation operated by Oprah Winfrey. The alliance also is working with Kansas Gov. Kathleen Sebelius' office to land a Victims of Crime Assistance grant.
Andersen, however, made it clear she was disappointed the federal government wasn't pulling its financial weight for a service in a county with a population heavily tied to the military and federal prison system.
"What I want to say is that the state is meeting their obligations. The state funding is happening. It's the federal funding (that's not)," she said.
Andersen likened the fight against domestic violence in Leavenworth County and elsewhere to the fight against terror globally.
"You know, we talk a lot about terrorists, and we talk a lot about homeland security," Andersen said. "And I can't think of any more basic homeland security than being able to be free and feel safe in your own home.
"When you're living with somebody who is a batterer or an abuser, you're living with somebody who subjects you to terror and is a terrorist in a way. So I guess, I'm thinking I'm all for homeland security, and I want it to begin in our homes," she said.
Andersen urged action from the community on behalf of the alliance.
"We need your financial support, we need your volunteer support, and we need for as many community members as possible to write, to e-mail or to call our elected officials in Washington, our senators and our congressman, and please encourage them to support our organization's efforts," she said.
Laura Swisshelm, who chairs the alliance's board of directors, said despite the financial setbacks, the alliance wasn't going down without a fight.
"To have one-third of our funds just cut off with no warning whatsoever has really put the pinch on us," she said. "But we're not going to sit. We are going to do as much as we can with what we have to work with."